Geographic Illiteracy: Quotes About Geography Series
Maggie Hogan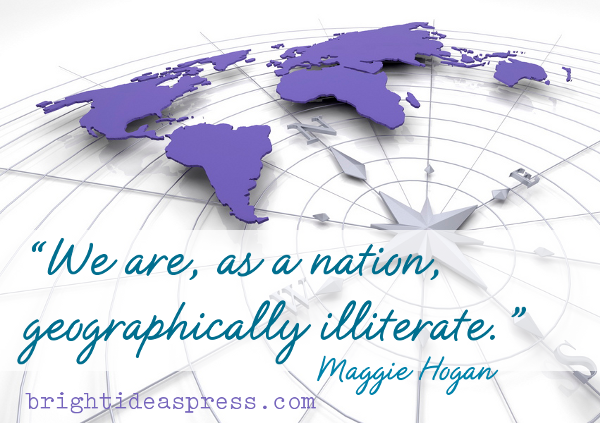 This is the fourth geography quote in a series. Read the first , second and third quotes here.
"We are, as a nation, geographically illiterate."

Maggie Hogan, Hands-On Geography
Is your family geographically literate? This vital subject, once heavily emphasized in early American education is now, too often, neglected.
I've read my share of horror stories about students who couldn't find Europe on a map or name the ocean off the coast of Florida. How about the conversation with a representative from a prominent USA based shipping company who explained that my package being shipped from Colorado would take longer since it was going to a remote location. What's remote about Delaware? According to this employee, Delaware is an island.
Of course, geography is far more than just names and places, but that is not a bad place to begin. Start today. Pull out your atlas – or better yet wall map – and as your family comes across names of places in the news, sporting world, missionary reports, and your studies, find and note the places mentioned. Although it is a simple step, when it is done on a regular basis it is a great start to learning the where of geography.
If you are serious about your students' leaving home well educated, it is important to note that economics, politics, science, history, religion, and culture are all affected by and intertwined with geography.
Convinced but possibly overwhelmed? I am here to tell you that geography can be naturally included in your daily life with a minimal amount of effort. From a small child learning about the life cycle of a butterfly to a high school student working to understand the relationships between drought, poverty, and war in an African country, geography naturally fits into day-to-day studies.
What are you doing to teach geography? I'd love to hear!
This post is part of the Quotable Wisdom Link-up by the bloggers of iHomeschool Network.