How to Make a Geography Box for Better Homeschool Geography Lessons
Suzanne Broadhurst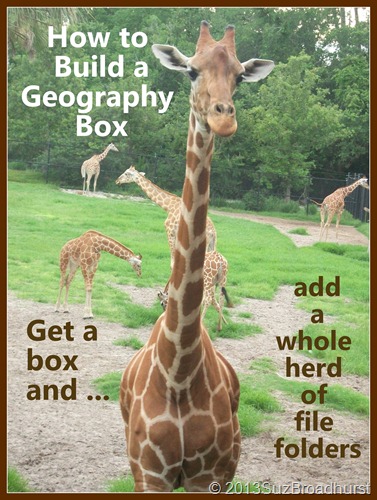 Homeschoolers like to have educational materials handy. A globe on the mantle, atlases on the coffee table, and a world map on the bathroom door.  That's why a geography box is convenient for all students – from littles learning their continents to high schoolers delving into world culture studies.
How to Build a Geography Box
Find a Box
Use a wooden crate, plastic "milk" crate, cardboard box, or an official file folder box from the office supply store.  Use anything that will hold a whole herd of file folders.
We used a plain wooden crate from the craft store, painted in cottage colors to make it look at home in plain view in our cottage-sized living room.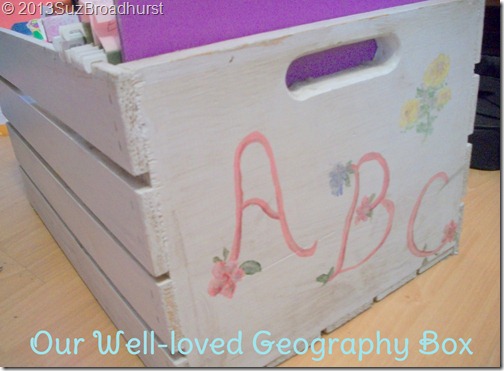 Label File Folders
Here are some label ideas for your file folders:
World Maps – Outline
Asia Maps – Outline
Europe Maps – Outline
North America Maps – Outline
South America Maps – Outline
Australia/Oceania Maps – Outline
Africa Maps – Outline
Antarctica Maps – Outline
USA Maps – Outline
"Your State" Map – Outline — Label one specifically for your state.  Very helpful when studying regional history, culture, tourist spots, and the like.
Around the World Maps — Gather National Geographic magazines, maps from tourism boards, etc.
"Your State" – Places to Explore — Include a driving map, brochures from tourist/historical spots, festivals, etc.
"Your Town" – Places to Explore — Include a city map, a tourist guide from your local Chamber of Commerce, brochures of places tourists travel to your area to see, etc.
Worksheets and Forms — Fill in the blank worksheets, forms and charts for intel-gathering.
Geo-Themed Stationary — For writing to missionaries and to make geo-reports jazzy.
Fill Your Folders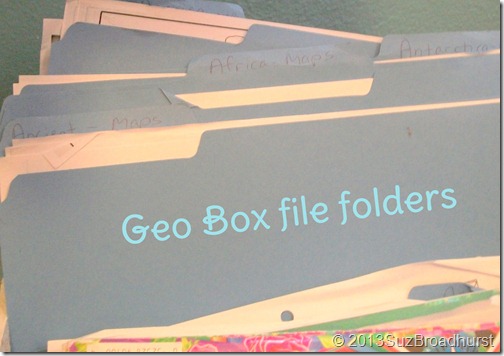 Print outline maps and file them in your Geography Box before you need them.  When a geographical locale comes up in your history lesson or you hear about a region in the news, you can pull out the appropriate map for an instant learning opportunity while the edu-fire is sparking.
Where to Get Geography Folder Contents
Use WonderMaps to print out world, continental, and regional maps.  Just click the features you want for each map, print, and file.
Make copies of the worksheets, forms, and charts in The Ultimate Geography and Timeline Guide.  

Contact official tourism organizations and local chambers of commerce for brochures, maps, and other information.
Stop in a local hotel or tourist spot for brochures and local maps.
Map Tip
Ask your chamber of commerce or state tourism board for extra copies of your state map.  Use one for marking favorite places and desired trip destinations.  Use one in the car as a hands-on supplement to the GPS.  And keep one for cutting up to make map puzzles and teaching map symbols.
Folder Idea
Create an Operation Christmas Child folder. Keep a package of holiday stickers and a world outline map in the folder. Add a sticker to the map each year when you find out where your shoeboxes were sent. Include fill-in-the-blank forms with information about each country. And tuck away a favorite family photo in the folder for next year's boxes.