Penny Races: Testing the Coefficient of Friction with Christian Kids Explore Physics
Lisa B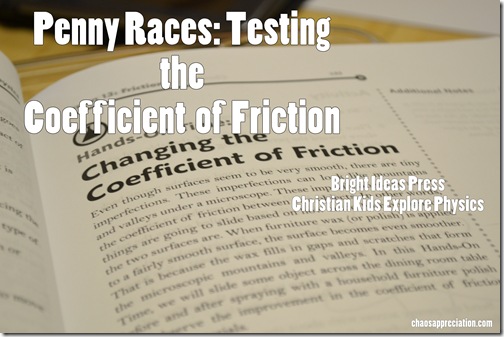 "I know you just mopped the floor mom, but how about we cover it in a variety of substances and slide pennies across it, in the name of science?"
Once again, Christian Kids Explore Physics has managed to grab my children's interest by offering to let things get a little messy.
Glue On Mom's Floor + Friendly Competition + 15 Minute Lesson = Happy Little Scientists
I should state here, that CKE didn't suggest the glue, we added that ourselves.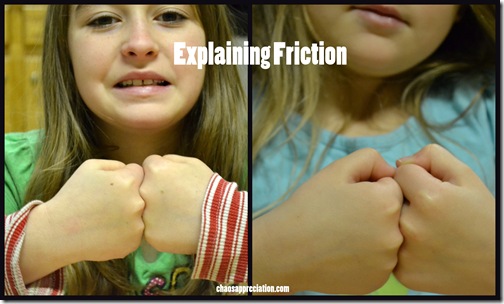 In Lesson 13 of Christian Kids Explore Physics, we began our studies of friction. Trying to visualize a microscopic surface full of bumps and crevices on a surface that appeared to be smooth proved to be tricky. We held up our fists and rubbed our knuckles together to show how those bumps actually get stuck together and make it hard to move.
The bigger girls put their younger siblings in matching laundry baskets and slid them across the carpet. They discussed the effects of weight on friction and had the opportunity to really observe static vs. sliding/dynamic friction. The impromptu demonstration ended when they asked mom to get in the basket.
Penny Races
This hands-on activity did not come with any charts to fill out. I made a simple, lined page, so they could color in the lines to show how far the penny moved across the floor.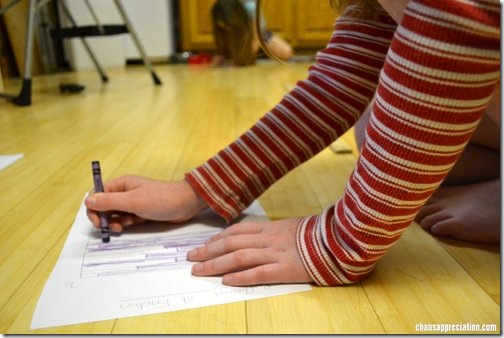 We began by test-sliding several pennies across a clean, dry floor. We had to choose our lanes carefully because several were not flush and caused our penny to do Evil Knievel aerial tricks.
After determining how far we should expect the penny to travel, we used furniture polish to alter our coefficient of friction.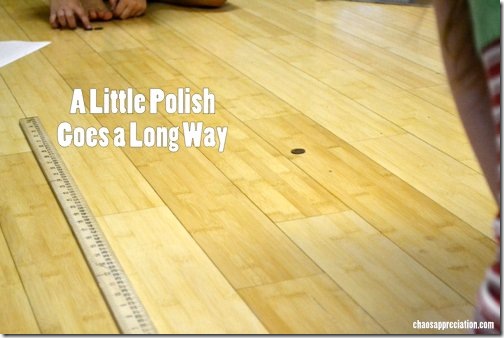 The project in Christian Kids Explore Physics instructed us to try sliding the book next. Being the rebels that we are, we couldn't let the fun end there.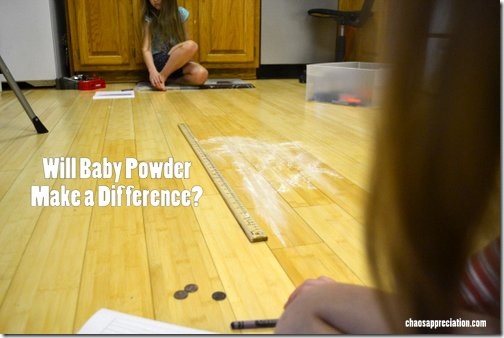 The baby powder did not seem to have an effect. More on that in a moment.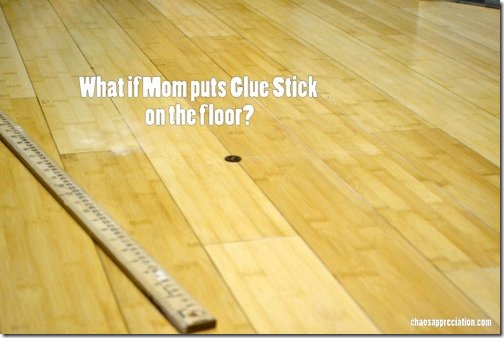 Why yes, I did put glue stick across my kitchen floor on purpose. Three times to be exact, since it really should have stopped the penny but did not.
A quick clean up of the floor, and I let the kids decide what to test next.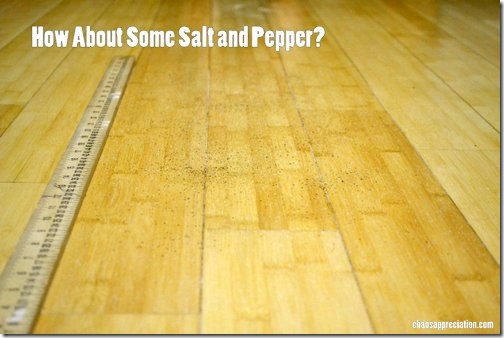 They chose salt and pepper.
They had the same result as with the powder and glue. It seems their pennies were going farther and faster with all the added friction. I was pretty sure that was not how it was supposed to work, so I sat down to take a closer look.
How about a lesson in experiment variables? For example, if Child A uses Force X to move a penny in Trials 1, 2, and 3 but uses Force X + Infinity for Trials 4, 5, and 6, your results might be skewed just a tad.
Bright Ideas Press has done a great job of presenting Physics in a way that my children understand and enjoy. The lessons leave room for additional conversations that deepen the comprehension of a particular concept.