Keeping Your Kids on Track: A No-Hassle Chore Chart
Laurie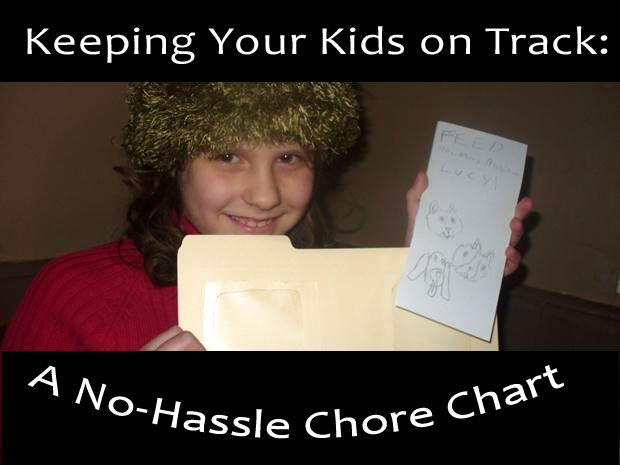 Are you tired of reminding your kids to brush their teeth, make their beds, or do their daily chores?  Do you feel like you are nagging your children to do things that they should remember on their own? At our house, doing chores was a constant battle that I felt like I was continuously losing. I even felt that I was losing my mind during the fight! It was time to do something about it.
I found many chore chart systems online. Some were costly, and some were free; however, none of them seemed ideal for our family. I found printable chore lists but didn't want to waste the ink and paper to print weekly charts. As a homeschool family, we already go through both paper and ink at an excessive rate. A friend uses her white board to list chores, but, unfortunately, I doubted my ability to keep up with it.
I decided to revisit a solution that I used when my girls were little, before they learned to read. The system puts the responsibility of keeping up with chores in your kids' hands, not yours.
List of Chores
The first step is supplying each of your children with a piece of paper and pencil. Then have them list the chores or activities that need to be regularly completed. This list can include:
chores, such as feeding pets, folding laundry, and emptying the dishwasher
regular school activities, like practicing times tables or memorizing Bible verses
every day responsibilities, such as brushing teeth and taking a bath.
Older children can help younger ones with writing the lists. For my youngest, we included activities like getting dressed, putting dirty clothes in the hamper, and other simple tasks so that he could grow accustomed to regular responsibilities. And if you look at it from the point of view of the game? Let's just take and try to introduce gaming principles into this topic, as the developers of online games successfully do. Make sure that the chores are appropriate for each child's age level.
Making the Chore Cards
I folded and cut letter-sized cardstock horizontally into thirds, creating three tall pieces of sturdy paper. Be sure to cut enough so that your kids have plenty of cards for each item on their list, possibly even making two or more for activities that get repeated throughout the day such as setting the table or brushing teeth.
Instruct your children to write one chore from their list onto each card. Encourage them to illustrate each task and color it in. For younger children, you can draw the item and allow them to color it so that they are able to distinguish each activity.

Putting It All Together
While the kids prepare the cards, you can make the chore chart holder. Taking one manila folder for each child, cut two windows in the front of the folder. I used clear contact paper to cover both front and back of the holes to create a clear window. On the tab, I wrote each child's name and tapped the sides shut, so none of the cards could fall out.
Each morning, the kids sort their cards in the left side of the chart, which can be labeled To Do. As they complete a chore, they move it to the right side, which can be labeled Done. The kids may also want to personalize their folders with stickers, stamps, or drawings.
I have found this chore chart method extremely effective because my kids can literally see what they have to do. With this system, they have accomplished their work each and every day. They try to see who can get through their chores the quickest. And Mommy doesn't have to monitor chores and nag the kids to do them anymore!