10 Easy Physics Demonstrations for Elementary Students
Lisa B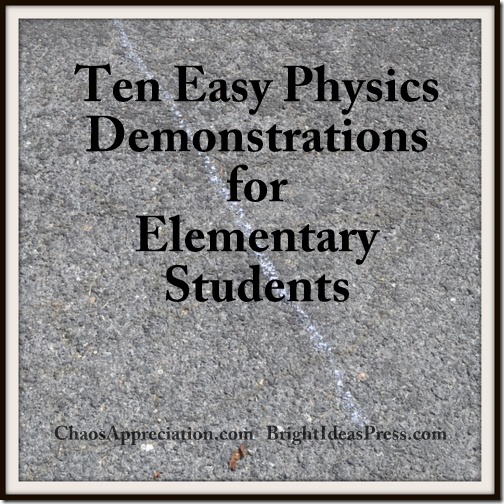 Raise your hand if you are ready for winter to go away.
*raises hand*
The weather in Virginia finally broke a couple of days ago, and we took full advantage of the change. I let the kids leave their math books inside, their reading on the shelf, and the history DVDs in the cases.
Lucky for me, science is a take-a-long activity– especially physics.
After doing some of the hands-on activities in our Christian Kids Explore Physics book, the girls wanted to keep "playing," so I went on a search for fun demonstrations of motion, force, friction, and energy.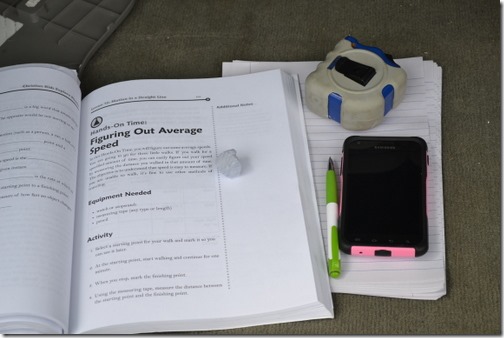 Here are ten of their favorite demonstrations from the Christian Kids Explore Physics book:
Color, Light, and Absorbing Heat: The children put on different colored t-shirts and sat in the sun.  Then we discussed who had the warmer back– the one in the white shirt or the one in the darker shirt.
Color, Light, and Absorbing Heat: We used rocks to hold a white and a black piece of paper to our driveway. After a while, we felt under the paper to see which piece of driveway was the warmest.
Density: Will it sink or will it float?  This was fun for our preschooler. She didn't understand the density discussion, but she enjoyed coloring her observations. We took a small tub of water outside, and they gathered items to test.
Balloon rockets: Blow up balloons and let them go.  Discuss thrust and air pressure.
Car races: Push toy cars along various surfaces: grass, driveway, sidewalk, deck board, etc.  Discuss friction, force, and energy.
Motion: We calculated average speed by walking a set distance. Then we tried it while running, riding bikes, and riding scooters.

Friction: Box Buggy slide each other down the street in a cardboard box. The children discovered that  pushing the 2-year-old was considerably easier than pushing the tween.
Sound: After a nice picnic in the front yard, we closed our eyes and listened to the springtime sounds around us.
Static Electricity: Separating salt and pepper – mix salt and pepper on a plate. Blow up a balloon and rub it on your hair to create static. Now hold it next to the plate and watch the pepper jump onto the balloon.
Make A Rainbow: Use a spray bottle or water hose to create a fine mist. Observe how the droplets of water create a rainbow from the sunlight.
I am certainly appreciating the way Christian Kids Explore Science presents scientific information to children. Even complicated topics with  fancy words are easy to understand. When we were outside, we were able to discuss the physics principles of our games with ease.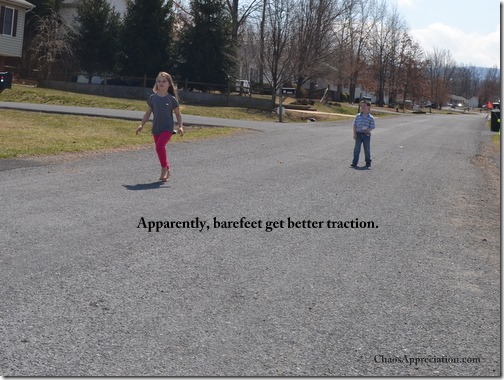 Have you ever moved your classroom outside during nice weather?