Five Tools for Teaching History to Hands-OFF Learners
Judy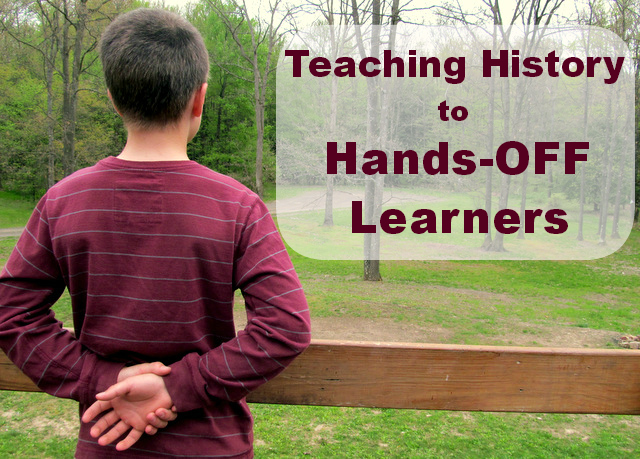 When we first began homeschooling eight years ago, I was excited for my children to experience hands-on learning. I bought a popular history program and eagerly jumped in. I wanted them to love history, and I wanted learning to be fun!
It took most of the first semester before I was willing to admit that my carefully-planned projects were an epic fail.  My children were distracted and kept asking when our latest project would be done. They were merely enduring all the fun things I had planned for them to enjoy.
In order to help my children love and learn from history, I took a hard look at their learning styles. Most of my children are avid readers and prefer to read and process information on their own. They would much rather read for hours than dig into a creative project.
Instead of teaching with projects and crafts, I needed to provide them with as many hands-off learning opportunities as possible and let them go.
5 Tools for Teaching History to Hands-Off Learners
1. Living History Books
The single most valuable way for hands-off learners to absorb history is through living history books. A good story can bring a time period or historical character to life, creating a vivid mental picture for the reader.
If you are using The Mystery of History as a curriculum spine, there are dozens of living history books listed in the back of the book for every reading level. Other excellent living history resources include Heritage History (a digital collection of classical children's history books) and the historical novels by G. A. Henty.
2. Audio Books
Historical audio books add an auditory component to hands-off learning. Even if your child doesn't devour living books, he will likely enjoy hearing those same books read aloud by a talented narrator. Some audio books even add appropriate background sounds which will help set the tone for auditory learners.
One source for high-quality audio books is Jim Hodges Audio Books. Mr Hodges reads aloud the G. A. Henty historical novels, bringing them to life for the listener.
3. Historical Videos
Historical documentaries are an excellent learning tool for both visual and auditory learners. I personally recommend reading about the historical period or events first before watching the complementary videos. Your student will undoubtedly learn more from the video if he has already established a few basics in his mind first.
4. Notebooking
Notebooking is a versatile tool that accommodates most learning styles. It provides a more creative way of learning than simply completing worksheets yet still holds an appeal for textbook-loving students.
The beauty of notebooking lies in the fact that it can be as simple or as involved as you like. Your child can start with a plain sheet of notebook paper or use one of many available notebooking pages on a given topic.
After months of making my own notebooking pages to complement Mystery of History, I decided to purchase the ready-made notebooking pages from Bright Ideas Press. I love that the pre-made pages are available in a variety of formats with plenty of choices for each child!
5. Timeline
A history timeline is a fantastic way to help students organize historical events chronologically. While making a timeline leans toward project-based learning, it is still simple enough–requiring only scissors, colored pencils, and an adhesive–that even the most hands-off student need not be overwhelmed.
Using these five tools to teach history to your hands-off learners will help them experience history as a living story of the past, even if they never complete a single craft or project.
What ideas do you have for teaching history to hands-off learners?