5 Ways to Combat a Mid-Career Homeschooling Slump
Kendra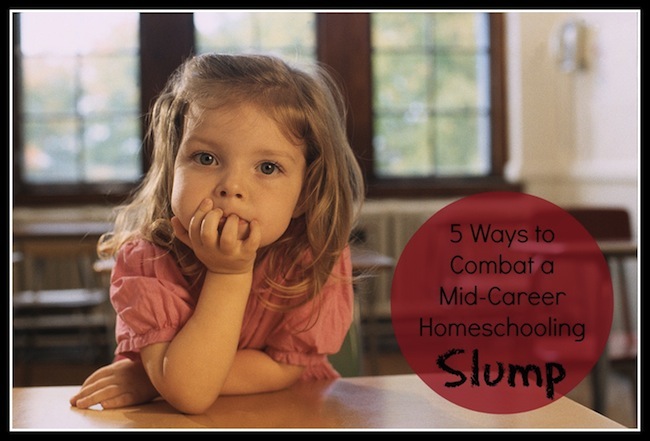 No one told me 16 years ago when I started homeschooling our oldest child that I'd still be homeschooling 16 years later, with 13 more years to go. I'm thankful they didn't because I'm pretty sure I would have doubled over laughing until I crumpled into a crying heap.
I love homeschooling, but I did not intend to make a career out of it. Guess I should have thought of that when we had 8 kids, huh?
I speak to a lot of brand new homeschoolers at conventions every year, and my blog offers a smorgasbord of help to those just beginning their school-at-home journey. They are a bright-eyed, enthusiastic crowd, soaking up the vocabulary of homeschooling, from Charlotte Mason to Singapore Math, asking a hundred questions and leaving with bags full of catalogs and notes feverishly scrawled on the back of the conference program.
I love those novice homeschoolers, but clearly I am not one of them. I no longer get excited by the red bins of discount colored pencils at Target each August, and I delete most curriculum companies' emails as they hit my inbox, yawning as my finger taps the keyboard.
What's a homeschool mom in a mid-career slump to do? I've really had to dig deep these past two years to propel myself along, and this spring I finally embraced the fact that I have a major case of homeschool meh. Admitting I'm less than excited about homeschooling has helped me to create some direction.
5 Ways to Combat a Mid-Career Homeschooling Slump
Admit you don't want to do this anymore, or at the least aren't as excited about it as you once were. Acknowledgement is the first step to recovery.
Scale back to the academic non-negotiables and forget the cute things other (younger, newer) homeschoolers are executing, photographing, and pinning on Pinterest. Good for them! A fairy garden topographical to-scale map of Budapest is not for you right now.
Feed your brain something other than educational material. Read a mystery novel or learn to surf. I'm not kidding about that last one; I learned to surf two years ago, and now I read Surfer magazine in my spare time. What have you always wanted to learn about and do? Do that.
Make the household stuff even simpler than before. I'm willing to bet that it's not the All American History or Christian Kids Explore Science that's pulling you under. It's the laundry that never goes away and the three meals a day plus snacks. I made a breakfast and lunch menu in September last year that has us serving the same meals made by the same kids each week. We're on auto-pilot now, and I stepped out of the kitchen cockpit for two-thirds of our daily food preparation. Score!
Get as much help as possible. If you can afford a housekeeper every week, awesome. Once a year? Fantastic. She'll bail you out. Join a co-op, sign up for online classes, use a pre-planned curriculum (Illuminations = awesome). Outsource.
And of course, I do a lot of praying. I see our homeschool as a vibrant, living place for young people to grow and get the gospel, to launch from and make a big impact on their world. When I remember why we started this whole thing in the first place, I get a renewed excitement about the years ahead of us.