Making Geography Fun
Lisa B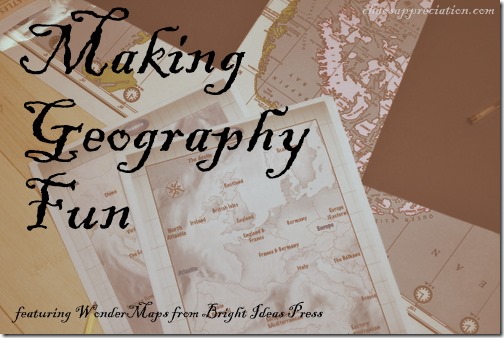 When you are a geographically challenged mom, teaching geography becomes laborious and often finds itself on the back burner .
When you realize your third grader is still asking if her grandma lives in the same world as her, you start to think maybe geography should be given more attention.
I first took stock of my on-hand geography resources.
WonderMaps from Bright Ideas Press
two laminated wall maps
printed notebooking pages
an amazing Internet connection
The possibilities for fun were endless if I was willing to get creative.
I'm cheap and not willing to print a ton of color pictures online. I checked my local Freecycle group to find if anyone had any science, geography, or travel magazines that we could cut up for school. The response was amazing. We now have a rather nice stack of beautiful color pictures on dozens of different subjects.
It seemed Scotland was the top of choice for a couple of magazines, and since it was a country I could locate on a map, I decided to start there.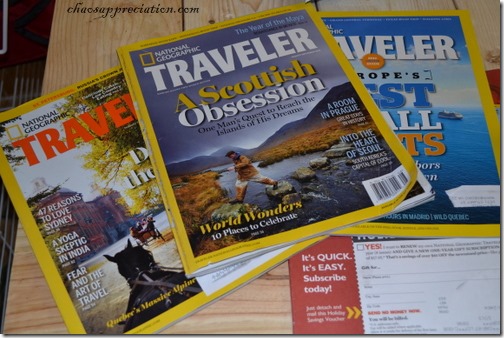 To set the mood, we set the laptop up in the kitchen where we were doing our work, and found Scottish music videos on YouTube. We started with traditional folk music and ended with popular rock songs!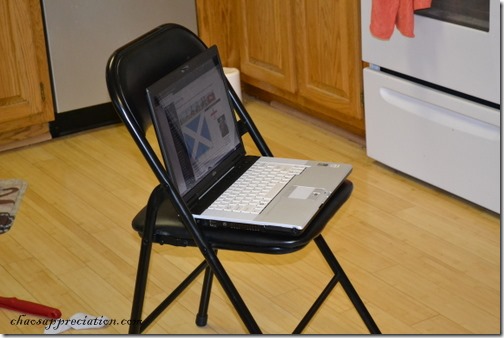 I used WonderMaps to print out maps of Scotland. We colored them first.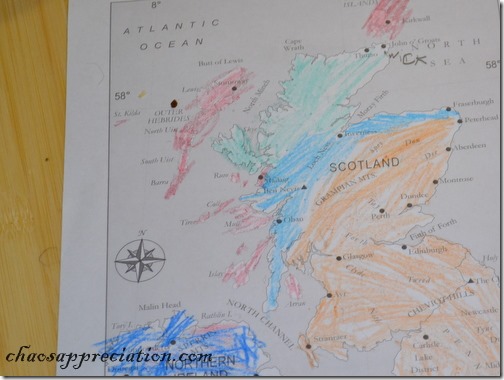 Then we compared the maps to our laminated map and added in the cities that we couldn't find.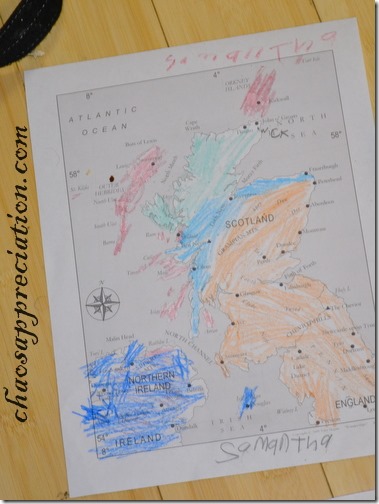 I don't have a formal geography curriculum, but I used Google search to find interesting facts on my own.
Some of the best information I found was on official websites for Scotland and for tourist sites. They had printable brochures and concise country demographics.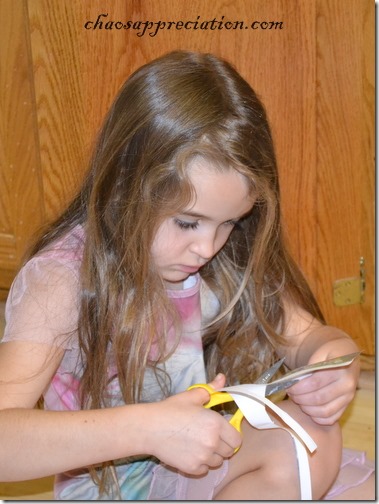 We found a brochure on Scottish Castles which the girls cut apart and then matched pictures to descriptions. They glued them on to pieces of construction paper for our binder.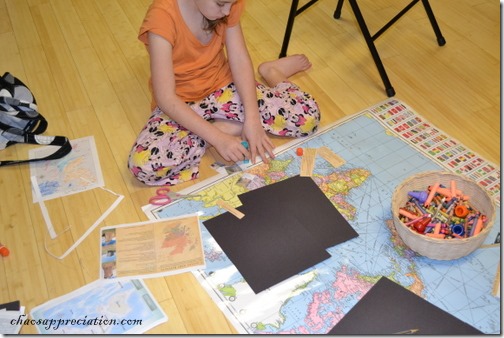 The girls went back to their colored map and added in the cities where the castles could be found.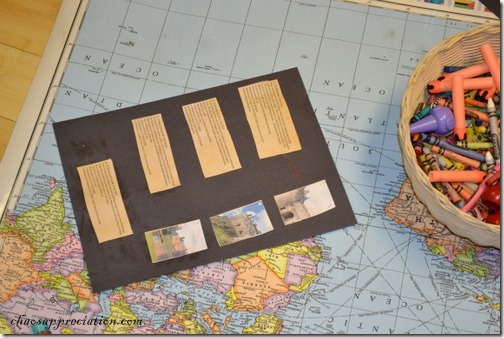 Every geography lesson needs some flag coloring.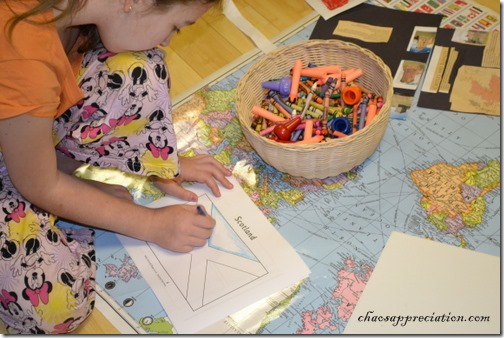 The girls took a long time to color in this pretty simple flag. Maybe it was because mom found two Scotsmen in kilts singing I'm Gonna Be (500 Miles) on YouTube and just had to listen to it. Maybe she danced.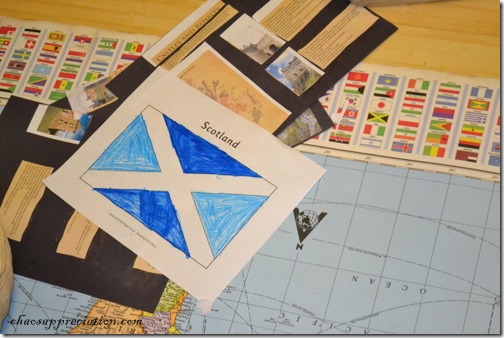 When we finished getting our wiggles out, I fixed a snack of veggies and passed out notebooking pages. They set out to find the fun information like population and industries while I prepped a brand new binder for our first country study.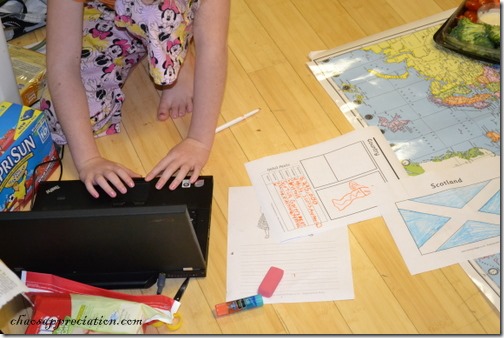 I printed out more WonderMaps showing full continents and used them for dividers. I let the girls decorate their papers with images cut from the magazines.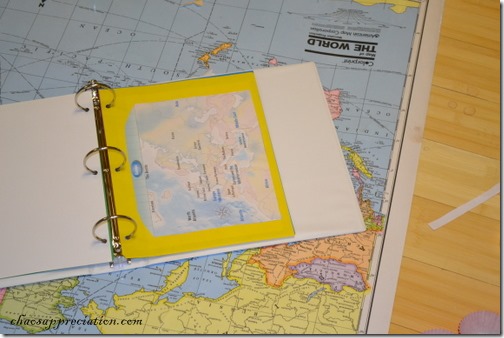 Once all the hard work was done, hole punched, and put in our fancy new geography binder, I surprised my girls by pulling out the paints. They both asked to paint pictures of Nessie, the Loch Ness Monster!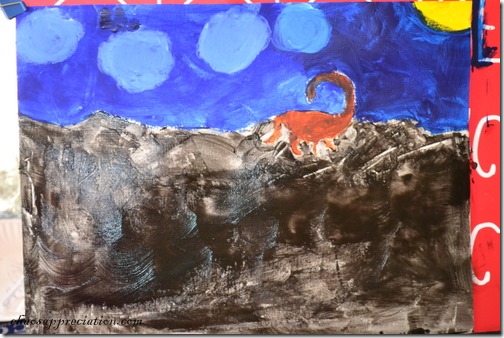 While they painted, I went to YouTube again and found them a few videos along the lines of Is Nessie Real?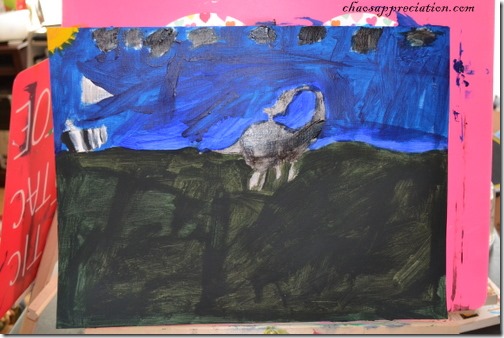 Maybe teaching geography won't be so hard after all.
*The link to the Castles pdf is not the one we used. After our project was done, my daughter found a better brochure. This one has more castles.