Give a Gift of Love to Your Preteen Daughter
Laurie
Life is hard. Sometimes I feel like I don't do anything right. Other times, I feel like nothing would get done right without me. I'm forty-years-old (just barely), and there are days that I feel unappreciated, under-valued, unloved, sad, lonely, misunderstood, and just plain depressed. And I'm a forty-year-old woman. Imagine if I were a twelve-year-old girl, just learning to grow up. Do you remember being twelve? Now that was hard.
A Gift to Remember
I recently celebrated a birthday, and I received the most fabulous gift from my twelve-year-old daughter, Annie,–a gift that I will cherish forever and reuse constantly. It is a gift that every mother would love to receive, and more importantly, one that every mother should consider presenting to her own preteen daughter.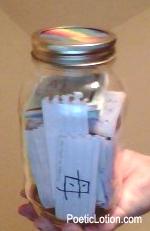 Annie gave me a jar filled to the top with happiness, love, support, hope, self-esteem, pride, humor, and memories: a glass Mason jar with a funky duct tape lid filled with hand-written notes spanning the months leading up to my birthday. Each note had Mom written on the outside, but never in the same way. Some simply read Momma or Mommy, while others were the word mother in foreign languages, including Mandarin phonetic symbols and the finger spelling for Mom in American Sign Language. Some were pictographs. Some were nicknames.
Each note was dated and included a little bit about what was going on in our lives. Many held encouraging messages. She told me that I was a good mother, doctor, teacher, and friend. She said she loved me or missed me or wanted to hang out. She talked to me.
She wrote, "I want beef… in jerky style."
And, "I'm sorry I broke your glasses."
And, "I told you that I thought you were pretty. You didn't believe me. I hope you change your mind."
She included quotes in many of the notes. Some were inside jokes. Some were quotes from our favorite movies. Some were Bible verses.
She made me smile, cry, laugh out loud… think.
What a great gift.
Shouldn't we give our daughters – during this precious time of growth and development – the gift of self-esteem? A touch of humor? A reminder that they are beautiful?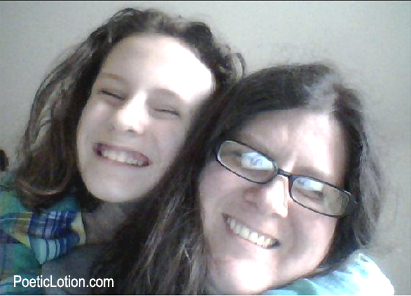 Psalm 127:3  Children are a heritage from the LORD, offspring a reward from him.
How to Make The Gift
My daughter simply used a Mason jar, a mini-notebook of paper, and a pen. She decorated the jar's lid with colorful duct tape. I love this idea because I have handwritten pieces of love. Because the notes are in a clear jar, I can see them even if I don't open the lid.
However, there are other ways of offering the same gift of love to your daughter (or son). Try any of these. Just do it in a way that is comfortable to you and not something that you will put off or procrastinate about. It's too important of a message to delay.
Write a book of love notes, doodles, and photographs. Many companies such as Snapfish or Lulu offer low cost book printing.
Fill a notebook with letters to give to your child on a special day such as a Sweet 16 birthday or the first day of high school.
Hide notes or cards with hand-written messages for your child. Whether you leave a weekly or monthly card, it doesn't matter. You can always hide it under her pillow or randomly throughout her room or in her schoolwork. (Be careful not to invade her privacy. Pre-teens do not like the idea of Mom rummaging around her room.)
Send regular emails or e-cards as a reminder of how important your child is to you.
Mail a card to your child. Trust me, kids love getting personal letters in the mail as much as adults do.
Regardless of your method, the important point is that your child knows without a doubt that she is smart, pretty, funny, loving, helpful, needed, wanted, and loved. If she isn't hearing it from you, from whom will she hear it – if she hears it at all?
For More Homeschool Encouragement, Follow This Pinterest Board