How Will You Spend Homeschool Summer Break?
stacey lane
There are two camps of thought when it comes to summer vacation. Camp One closes all school books and doesn't open them again until the fall. Camp Two continues doing some math and writing to keep skills fresh.
I have fallen in Camp One some of the time and Camp Two other years. But this summer, I'm merging the two camps. We will be learning as we have fun outside the textbooks.
After 13 years of homeschooling, I have learned that my kids want to be engaged in activities. They like to know the schedule no matter how empty or full it is. So even through I am putting the schoolbooks away for the summer, I have an activity planned for them. And, yes, this activity will require writing and math.
We will be working on making our own Lego© comic book.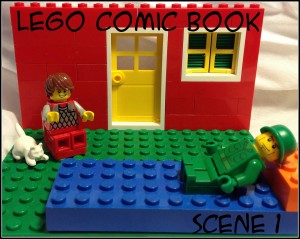 Since our fall curriculum line up includes The Mystery of History Volume 1 and Christian Kids Explore Creation Science, I thought it would be a great idea to use a creation theme for our Lego project.
Along with the bucket of Legos© we already own, I got a great deal on a Lego© Education set that builds a large variety of animals. I plan on adding dark blue and white sheets for backdrops. I will leave it up to the boys if they want to stick with strictly Lego© creations or branch out into other media.
First I will have them brainstorm and compose a rough draft of ideas. I think this will be a great way to incorporate writing into our project. I printed some character dossiers from Illuminations to help with their story.
Then we can build and photograph their creations. This step will provide a great chance to teach them computer layout and editing. Although we could use an old fashioned scrapbook style, I think using my computer will add to the excitement of the project.
For math, I will have them calculate printing costs as they find the best place to get their Lego© comic book published. If all goes well over the summer, I hope to share a follow-up post on about our Lego© Creation comic book.
Do you have any educational but fun projects planned for your children this summer? I'd love to know how you approach the break.