Translating Life Skills into School Subjects
Lisa B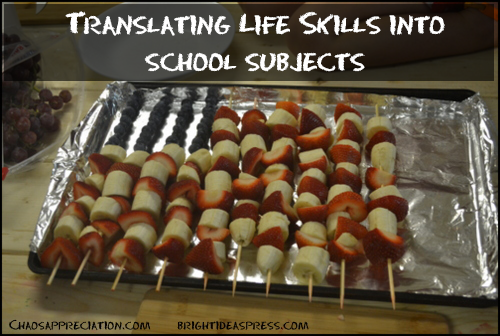 This year, I was pushed into a more un-schooling method of educating my children. It made me twitch. It made me nervous. I worried that we weren't doing enough of this subject or that subject.
It wasn't until I sat down and really considered what my children were learning each day that I started making connections between "life skills" and traditional school subjects.
Here is my cheat sheet for translating those skills into subjects:
Cooking –  Geography, History, Math – Where did the food come from? Is that recipe traditional, or from a specific culture? Can you double or triple a recipe correctly? Was this meal always cooked this way? When did people first start eating this food?*
Web Design- Art, Math-Gimp,Inkscape and RealDrawPro are great alternatives to Adobe Illustrator and are very user friendly for learning to create digital art. Learning to correctly align sections using CSS requires careful calculations of pixel widths.
Sewing- Geometry, Math, Science (fibers)- Even basic quilting squares requires careful measurement and calculation. Have you ever done a burn test to determine the makeup of a mystery fabric?
Painting- Art, Science, Chemistry, History-Did you know that some older paintings lack certain colors because paint in that color didn't exist then? Learn history and chemistry while exploring a love of painting.
Building/Construction- Math, Physics, Geometry, Chemistry-Simple block stacking has been linked to higher math scores. Building with Legos, Lincoln Logs, or even wooden blocks aides in learning spacial reasoning too! Homeschool Commons has a great link to The Young Craftsman, full of great ideas from Popular Mechanics Magazine.
Engines-Math, Physics, Chemistry- Have a wanna-be-mechanic? There are a lot of projects for kids who love to make things move!
Videography/Photography- History, Science, Math, Language Arts- So much of our history has been preserved and passed down thanks to videographers and photographers. Use a love of photography to hone math and science skills (learning to use the camera) and to study history through watching videos and finding interesting things to photograph.
Drama- Debate, Rhetoric, History- Put on plays and mock debates to build confidence. Explore history and enhance research and study skills as well.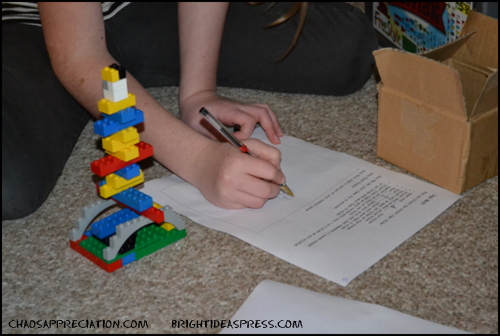 Don't forget the fringe lessons of time management, responsibility, research, handwriting, public speaking, fire safety, nutrition and more!
I still struggle with accepting how learning can, and does, happen without the use of public school style textbooks. Being able to put a "subject" to the activity helps me to focus on what they are learning rather than just seeing the method of learning. What creative activities do your children participate in and what subjects to see them learning in the process?
*While I personally disagree with the dates presented on this timeline, I found the recipes and general order of appearance for certain foods and meals very interesting.