Creation Science Curriculum Just Released
Jimmie Lanley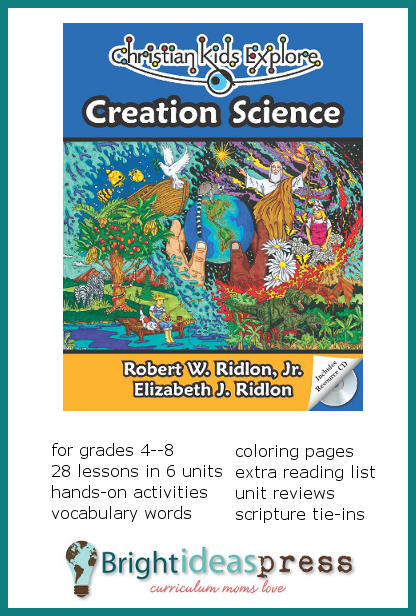 We have just released a brand new title in the Christian Kids Explore science series. Creation Science by Professors Robert and Elizabeth Ridlon is a year-long science curriculum that takes students back in time to explore the earth when it was newly formed.  
Special Introductory Discount
You can use code divinedesigner to get 25% off Christian Kids Explore Creation Science the entire month of July 2013.
More Details About This Creation Science Curriculum
This homeschool science curriculum is intended for grades 4–8;  however, the book includes activities suitable for younger students. Its 28 lessons are divided into 6 units and feature
Hands-On Activities
Vocabulary Words
Coloring Pages
Supplemental Book List
Unit Reviews
Scripture Tie-ins
Creation science is the search for knowledge and truth about the origin of life on Earth.  Discover when each of the animals was created, including the dinosaurs. Learn why there was a great flood that changed everything, and find out how some animals and people survived its destruction. In exploring the foundations of creation science, students will also delve into the methods and problems of secular models while discussing topics such as the age of the earth, evolution, and intelligent design.
The included resource CD has:
Daily Lesson Plans
All Reproducibles
Materials Lists
Bonus Literature Study Guide
Get your copy of Christian Kids Explore Creation Science here. And don't forget to use code divinedesigner at checkout to get 25% off this title during July 2013.