Independent Home Educators
Suzanne Broadhurst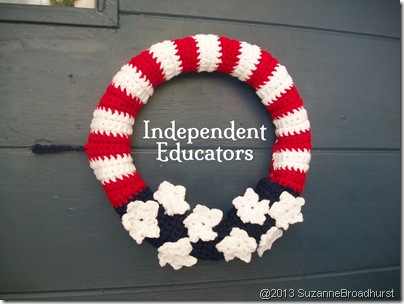 A Simple Message for Complex Times
As independent educators, AKA homeschoolers, we must remember our educational independence was hard-fought and hard-won. Here are a few tips to maintain our independence and our perspective.
Teach the American Constitution.
Write a mission statement for your homeschool family, a sort of family constitution.
Teach the amendments to the American Constitution.
Amend your family constitution as needed.  Maturity of both child and parent will necessitate change.
Ponder the past of your family.
Live in present America, while enjoying edu-romps and dress-up days of the past.
Live in the moment with your children, remembering what they were like and not expecting them to be what they are not yet.
Prepare for the future of America with your children.  They will be there, too!
Prepare for the future of your family.  Look ahead a few years:  What will your children need to know now so they can know more later?
Celebrate freedom in big ways and small.
Remember:  Where freedom lives, responsibility does.
Photo: Wreath made by Suzanne Broadhurst, pattern courtesy of Petals to Picots.