Ease Into The New School Year: 10 Tips For The First Week Of School
Lisa B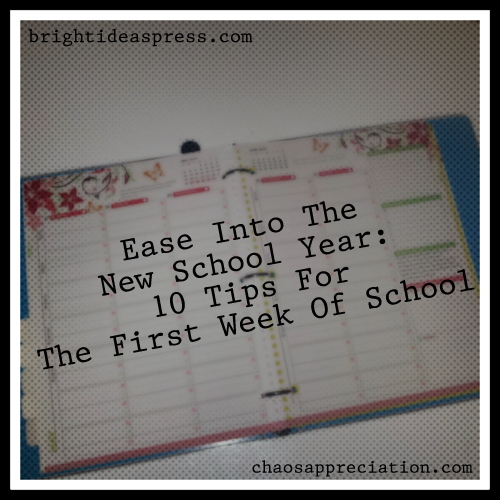 I love the first day of school because there is so much potential in that day.
The excitement, mixed with anxiety, in the faces of children on the first day of school is palpable. The excitement is not saved only for the children. Homeschooling moms and dads experience an anticipation as well, especially if they have changed methods or curriculum.
I have personally experienced the heart-breaking let down of a bad first week at school. Despite all my planning and organizing, the week ends with the kids at the table, crying in frustration. I am determined to have this school year begin with less stress and more giggles.
As we begin our seventh year of homeschooling, I'd like to share with you my 10 tips for easing into the new year.
10 Tips for The First Week of School
Start talking about school the week before. Sound excited when you mention your plans. If you have a sensitive kid, or an anxious one as I do, then keep it more low key. Still mention it and talk about what you have planned so it isn't a shock. If there was something your child struggled with last year, let her know what to expect in that subject this year.
Don't put too much pressure on having a successful first day.  It is not the marker for how the entire year will be. Focus on the better moments and show excitement for day two.
Consider giving each kid his own individual first day. This works especially well if you have changed your routine, switched curriculum, moved to more independent learning, added a new child to the class room, or you have children who do not work well together.
Invest some time in freezer meals so you don't have to stress over dinner the first week. If you have a few homeschooling friends locally, you could even organize a meal trade with other moms.
Keep coloring pages printed to keep hands busy and minds focused while you're reading lessons. Present a new tub of colored pencils and crayons to start the year off right.
Let the kids participate in lunch planning and preparation, or ask your older children to be P.E. helper for younger siblings (AKA taking the tots outside).
Take a first day of school picture.  A dry erase board with their grade written on it or a simple homemade sign held in their hands makes a great additions to a first day of school picture.
Stick to the basics. In most public or private schools, and even in college, the first week of school is spent preparing for the year: getting your locker, getting the syllabus, getting your books. Take time the first week to cover basic subjects, personalize notebooks, and discuss what they can look forward to in the weeks ahead.
Give them an early boost. The week before school, make a point each day to remind your children of something they do well. Leave them notes telling them things you love about them. Little things go a long way to build confidence.
Coffee. Hot and fresh, daily. Or substitute your particular beverage passion.)
One of my favorite perks to homeschooling is having the flexibility to do what works for our family. Don't stress about making sure your first day is like everyone else's first day.  Take your time, plan smart, hug often, and you school year will find itself off with a bang!