Advanced Science For Elementary Students
Marci Goodwin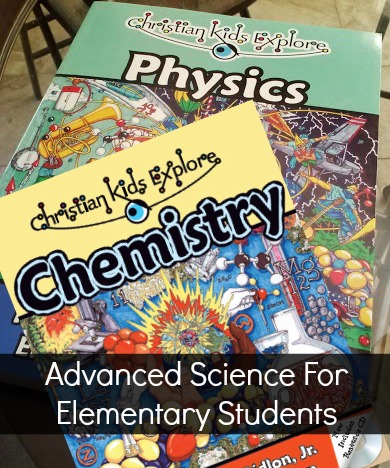 As a homeschool mom, I do a lot of talking to other moms about homeschooling. A recent conversation with both a public school and a homeschooling mom turned to science. They both asked what area of science would be appropriate for their elementary students to study. Here is what I said.
All of it! Kids innately love science because their curiosity makes them natural-born scientists. They wonder and then explore to find answers. Science study comes easy for kids; it's adults who make it boring and difficult.

Elementary students can study biology, chemistry, physics, earth science, technology, whatever they are interested in. Just make sure there are plenty of hands-on activities and ways to keep the study applicable. Because, you know, science is everywhere!
Your Kids Can Learn Advanced Science
The mention of studying chemistry and physics met with resistance.
Our kids are too young to study chemistry or physics! That is ridiculous! Those subjects are just too advanced.
Have you ever thought that, too? Are the so-called advanced sciences off limits for young learners?
The truth is that your children have probably already studied physics and chemistry on their own. They just haven't assigned fancy terms to it yet.
Have your children figured out that they can coast their bike from the top of a hill to the bottom? Have they figured out how much they can pull in their little red wagon and how much is just too much? Have they ever flown paper airplanes? Do your children find helium balloons fascinating?
All types of science are great choices for young learners as long as they learn about it in very concrete ways that they can understand.
Physics and Chemistry Curriculum for Elementary Students
In my conversation with those two moms, I recommended Christian Kids Explore Chemistry and Christian Kids Explore Physics from Bright Ideas Press. These science studies present advanced concepts to elementary students through age-appropriate terminology and a daily hands-on science activity. The CKE series is very kid-friendly and parent-friendly. So, yes, kids can study advanced sciences with the help of age-appropriate curriculum such as Christian Kids Explore.