Getting Ready for Home School – Putting on Your Spiritual Armor
Melissa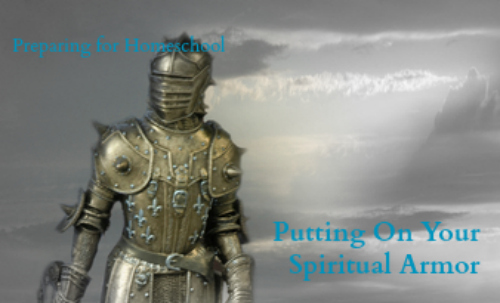 Fall is fast approaching, and our house is a flurry with preparation — buying school supplies, ordering curriculum, enjoying the pool.
This summer I've had the opportunity to work outside my home for two weeks at a summer day camp. It's been great; during the day, the hours fly by. There's always activity, something to be done, someone who needs something, a next event to look to. I have time with other adults – to share a chuckle or a funny story with. Sometimes people even come up and say, "That went really well!"
I realized something. What we do — staying home all day– is hard work. Sometimes we diminish how hard it is. Really hard. The enemy does not want us focusing on our families, pouring into our children, growing strong citizens who are knowledgeable and full of character. So he fights us at every turn. We need to fight back with God's help.
When we work from home as homeschool parents we must take a strong stance in these four ways.
Be self-motivated
Working from home, there isn't the same kind of external motivation that exists in an outside job. There isn't a boss to talk through time-tables or to-do lists with, no co-workers to bounce ideas off of. So it's important to create your own network and support system. Maybe it's local homeschool moms who are doing similar things. Or an on-line group, like our e-groups at Bright Ideas Press, full of other parents who are teaching the same curriculum. Be sure to have regular conversations with others who are using the same tools you are. And be sure to share with your husband, the principal, about your day and your needs. Let him know how he can help you!
Become our own encouragers
It's hard to be the only adult all day and not have anyone giving us feedback on our job, or even giving us an occasional pat on the back. Become your own encourager. Recognize your successes. Journal or keep a list of what's working, what you're doing well. Sometimes we need to call or text a friend or post on Facebook about our brilliant parenting move. But don't forget to revel in your own successes.
Put on our spiritual armor
When we have not filled ourselves with Christ, our reserves are low. When I'm working outside the home, I'm less apt to let my emotions run away with me and focus on difficult relationships or how someone worded their recent e-mail to me or why I wasn't included in a certain social invitation.   When I haven't armed myself spiritually, I am more prone to respond to conflict in an unproductive or hurtful way.
I need to dig into Ephesians 6:10-18 daily.
I love this prayer that comes from John and Stasi Eldredge's book, Captivating: Unveiling the Mystery of a Woman's Soul.
I now put on with thanks the armor which you have provided for me–girding myself with the belt of truth; binding up all that is vulnerable of my femininity; first my need to be pursued and fought for. Thank You for daily pursuing me and fighting for me as well.

I also gird up my desire to be irreplaceable in a grand scheme of Yours. You have placed this desire within me and I wrap Your truth around it, in hope of what You will do. Grant me eyes to see each day in light of Your activity, to live in the big-ness of Your story. I gird up my desire to offer life through my gifting, the beauty You have bestowed on me. I ask You to continue to reveal and confirm what You desire to do through me and all You have given to me. I trust that You have called me by name and have given me a love, a beauty, a gift to pour out on my family, my friends, and those You bring to me. May this day be an offering of love poured out before You on the altar of my life.
In whatever way you choose to pray for God's covering on your day, be sure to include it in your morning routine.
Create spiritual goals
It's important to be in God's word daily, but you will grow even more if you create spiritual goals for yourself. Maybe the first semester you'd like to dig deeply in one of the gospels, or read the New Testament. What other books might gird you up spiritually? Could you read something by a spiritual great from the historical time period that you're studying? If you're studying the early church, you might want to read Eusebius: The Early Church History about the first four hundred years of the church. If you're studying the reformers, try something by Martin Luther. This semester I'll be reading Mere Christianity by C.S. Lewis. Whatever you choose, plan for spiritual growth.
Homeschooling is a challenge. Gird yourself with Christ and plan for a great year!