Homeschooling: It's Not Just for the Kids
Laurie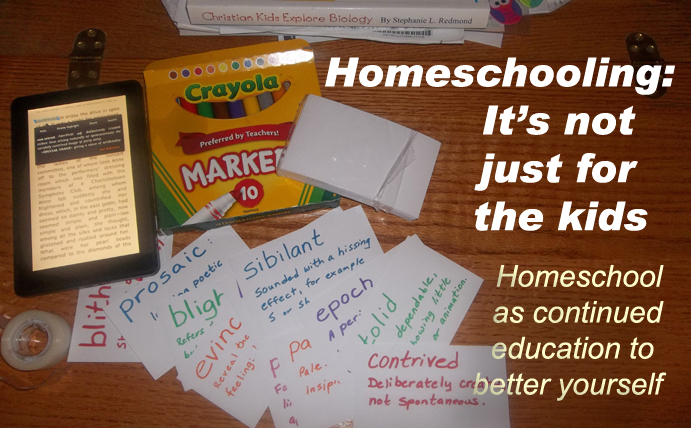 One of the things that had me hooked on homeschooling was my own ability to learn with my kids.
Why is the sky blue? I don't know; let's find out.
How did the kangaroo get its name? That's a neat one; let's look it up.
Does ice freeze faster with cold or hot water? Let's do an experiment.
As circumstances move us into more of an unschooling style, I find myself pushing even harder to improve me.
My 12-year-old daughter devours books like Cookie Monster eats cookies. She reads several at once, and she goes through them fast. Some are easy reads–pre-teen series books about mysteries or mermaids or babysitting. Some are elaborate, even college-level books like Anne Frank's Diary or books on the Titanic, yellow fever, or other historical events.
My 9-year-old is still learning to find her love of books. But when she finds one that she clicks with (such as the Just Grace series), she'll lay awake, flashlight in hand, reading deep into the night. How can a mom complain about that? Still, she'd rather write a book than read one.
My 5-year-old son is just learning to read. He knows the sounds each letter makes. He can sound out words. He loves the rhyme of poetry. But – shh! – don't tell him that he's learning, or he'll freeze up.
Why type of reader do you have in your homeschool? A willing reader? A reluctant reader? A ready reader?
I want all of my children to love words as much as I do. The food we eat, house we live in, and clothes we wear were all purchased with the words from my pen. My love of the written word runs deep.
As I was reading Anne of Green Gables along with my oldest – trying to keep up with her pace and arguing over whose turn it was to use the Kindle to read – something occurred to me. There were a lot of words that I didn't know. They were good words. Fun words. Words I wanted to use in every day conversation.
Then inspiration struck. A word wall. For me! So I bought index cards and began writing down the unfamiliar words with a concise definition. I put them on my wall so I would see them while I was writing an article. When I needed a word, there it was, working its way into my vocabulary.
And miraculously, into my children's vocabulary. Soon my kids were making their own word walls.
We frequently add words that are new or ones that we often misspell or, particularly for the youngest, ones that we are just learning to spell. Homeschool is not just for kids. It allows us all to grow and learn as a family.
What are you learning as you homeschool your children? Are they teaching you?