How to Choose Your First Volume of Mystery of History
Suzanne Broadhurst
When you see educational resources offered in multiple volumes, you tend to assume that you should begin with volume 1, proceed to volume 2, and move on through the series sequentially. Certainly, there are benefits to studying history chronologically, but some families may be thinking, can I – should I – begin somewhere in the middle?  Here are a few tips for choosing your first history volume from The Mystery of History (MOH) series in a non-chronological way.
Directed by Delight
I call this manner of choosing:  Let the kid have her way.  Not everything that comes down the educational pike, so to speak, needs to come from the tight rope of a scope and sequence or from the Mama Knows Best Handbook of Life, if ever there were such a thing.
If your student is fascinated by the middle ages right now, begin there.  She will love you for it!
Directed by the Rest of the Story
What else are you studying?  Will you be learning about Copernicus and his scientific discoveries?  Then The Mystery of History Volume 3 may be the perfect fit, answering historical and cultural questions that pop up while learning about the man and his scientific means.
Directed by Family and Friends
Or, choose based on serendipity.  Sometimes we plan life around homeschooling, and sometimes we can plan homeschooling around life.
Do you have an uncle coming to visit who is passionate about Roman architecture or a friend who is flying in for a wedding who quotes Dante and Chaucer as well as your children can quote your latest tantrum over their uncleaned bedroom? Choose The Mystery of History volume based on their visit.  Whether you study before, during or after the visit, adding the human element will cement the learning, as well as create talking points that deepen family relationships.
Directed by Dinner Time
Two approaches have been debated around dinner tables for decades, if not centuries:  Should we eat what we like best first, or save it as incentive to get through the lima beans?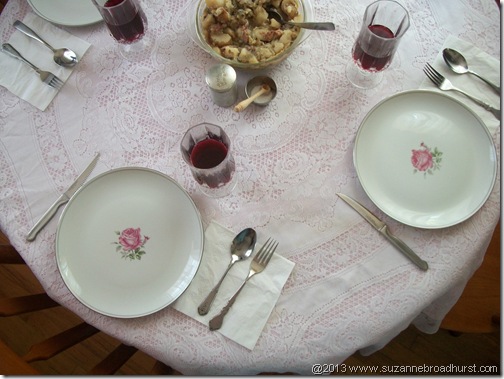 Choosing curriculum can go either way, as well.  Can you hardly wait to study the Coptic Church or are you dreading an Egyptian journey like a plague unleashed from a newly opened tomb?
Some find holding back their favorite subjects creates motivation to get through the tough historical times.  Others need to be wooed into history with dessert first.
If you are anything like me, using The Mystery of History, no matter the volume, you will find that it's not the history bean you have hated, it's the way our childhood instructors cooked and presented it.  MOH offers a new, delectable flavor!
Summing Up
So, how do you choose an historical order?  Ask your kids, look at your curriculum plans holistically, check your calendar, and ponder your eating patterns. Then you can enjoy history no matter which order it comes in.
Many thanks to Steph who, on The Mystery of History Yahoo Group, asked the question that inspired this post.