Starting the New Homeschool Year Strong
Heather Woodie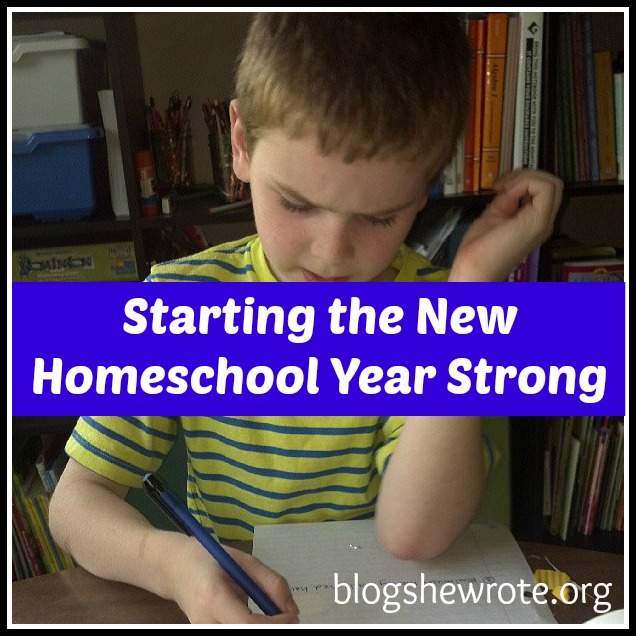 Follow this list of tips to get your homeschool year off to a strong start!
Evaluate Each Child's Progress
This could be more formal, but generally speaking we homeschooling moms can give a pretty good assessment of whether or not our students have met their goals for the year. Based on your child's progress, you can begin to consider what the new goals will be.
Set Goals for Each Student
There are long term or more global goals to consider. You can pray and think about what goals would be important for each child as you put together a plan for the new year and choose the materials you will use.
You'll also need to set more specific, measurable goals for the new homeschool year. Even the most relaxed of homeschoolers can assess progress this way.
As you create goals, consider inviting your student into the conversation. After all, this is a good opportunity to offer ownership in his educational experience.
Choose Materials & Curriculum
I always consider what best suits each of my kids and our circumstances and that will get the job done. There are so many programs and materials out there that it's easy to get overwhelmed. As long as you know your student, I don't think you can miss. Even if your choice requires a little adjustment, if you've made the choice based on your child's needs, it will be a good year.
This is another great place to get input from your child. The more you bring your student to the table, the more ownership he will have of his homeschooling experience. Even younger students can offer some opinion even if it is a small choice. The more your student is involved in putting together her program, the more engaged she will be. As your student enters high school, you will want that level of engagement!
Get to Know Your Materials & How They Will Be Used with Your Student
This is where you can lay out a general timeline and get some of your plans together if it is not a structured program. How will you adapt the materials to the needs of your homeschool? How will you approach the instruction? What parts do you want to offer up for independent learning? All of these make great considerations as you receive the materials and see them first hand.
Prepare Your Space
Gather your consumable supplies and make sure they are accessible. Clean up and make the learning environment inviting. It's always best to start the year off with your home and learning spaces organized. As things get going, it's easier to maintain if you start neat.
Have Fun!
Remember it's a joy and privilege to homeschool. Help your children to remember it too. Enjoy making some fun memories together as you begin a new homeschool year. Perhaps you have a traditional way to begin a new year or maybe you want to try something new.