Insectigations: Five Ways to Trap Insects
Amy Stults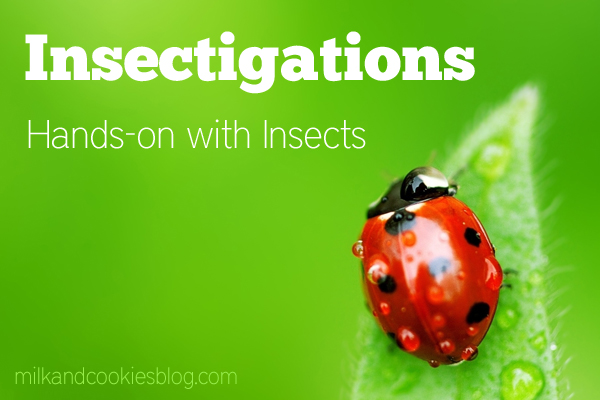 I don't mean to give you the heebie-jeebies, but did you know that at any given moment you are no more than three feet away from a bug? Most of the bugs within your radius are so small that you could never see them without a high powered microscope.
Don't get freaked out, don't go run to take a shower, and don't start over-sanitizing your house. Remember these bugs are still God's creations and everything God makes is good.
Without these bugs, the world would be a dirty place! Without the teeny-tiny dust mite, your house would be caked with dust, dirt, abd dead skin flakes no matter how often you dusted. Without bees, many kinds of vegetation would die out. Bugs help to decompose dead animals as well as the fur and hair from living animals. Without the strange dung beetle, the world would be full of you-know-what.
It is a fact that our world needs bugs to survive. God sure knew what He was doing
Doesn't He always?
So say it with me, "I like bugs; bugs are good. Bugs are my friends." Great, now let's go catch some. There are several ways to make a bug trap.
How to Make a Bug Trap Method 1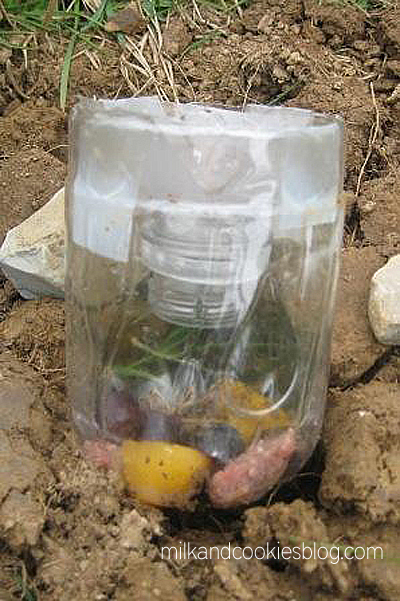 Cut the top off of a small plastic soda bottle.
Drop a few small pieces of insect-attracting food such as raw meat, or sweet smelling fruits, into the bottle. Insects especially love bananas and peaches.
Turn the top upside down and insert it into the bottom half as shown above.
Dig a small hole into the ground and place the bottle in the hole so that the edge of the trap is even with the ground.
Bugs will follow the scent to the trap, fall in, and not be able to climb back out. Be sure to check the trap in the morning because more bugs come out at night.
How to Make a Bug Trap Method 2
This next trap is actually called a pooter. It is simply a vacuum cleaner for bugs.  You will need these supplies:
a small glass or plastic jar with lid
30" of thin plastic tubing
a scrap of muslin or nylon
an elastic band
a small amount of clay
Once you have gathered your supplies, here is what you do to make your bug trap.
Cut the tube into two bits, one 20" long and the other 10" long.
Cover one end of the short tube with the scrap of muslin and secure it with the elastic band. (This will stop you from sucking up the bug.)
Cut two holes in the jar lid to push the tubes through.
Fix the tubes in place with the clay or anything similar, making sure any gaps are sealed.
Place the end of the long tube over the bug you'd like to have a look at.
Suck gently on the end of the short tube. Your sucking creates a vacuum in the tube, which will pull the bug into your jar.
How to Make a Bug Trap Method 3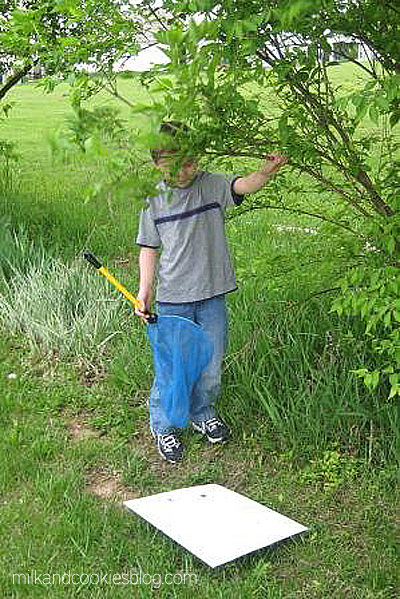 Place a large white poster board under a tree or bush. Shake the branches. You are sure to see a number of bugs fall from the tree onto your poster board.
How to Make a Bug Trap Method 4
Make a thin, sugary concoction from mashed banana, sugar water or fruit juice, and honey. Use a paint brush to coat a tree trunk or fence post with the sweet smelling liquid. After dark, take a flashlight with you after and inspect the trunk or post. Gently scoop the bugs into a container for inspection indoors.
How to Make a Bug Trap Method 5
Create the above concoction but pour it onto a tin pie plate. Punch holes in the side and attach a string. Hang it a tree to attract butterflies.
Learn more about insects in Christian Kids Explore Biology, which contains a whole section about these creepy crawlies.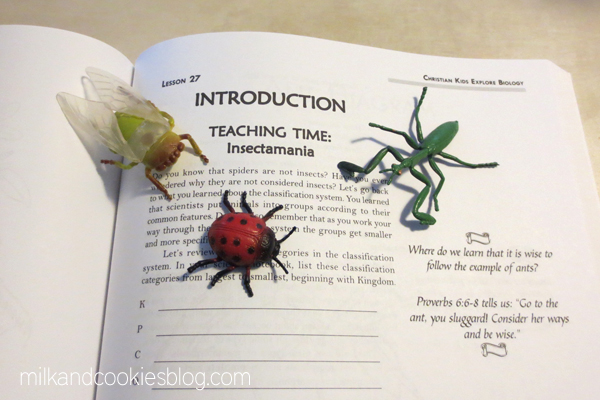 More Fascinating Bug Facts
All insects have 3 body segments, 6 legs, and 2 antennae. If a creepy crawly doesn't meet all the criteria, it is not an insect. Contrary to popular belief, spiders are not insects; they have 8 legs and no antennae.
Aphids are born pregnant and can give birth 10 days after being born themselves.
Dragonflies are one of the fastest insects, flying 50 to 60 mph.
Each year, insects eat 1/3 of the Earth's food crop.
In its entire lifetime, the average worker bee produces 1/12th teaspoon of honey. The total distance of the many trips honey bees travel to produce a pound of honey is about equal to twice the distance around the world.
The leap of an average flea is equivalent to a 100 pound man leaping 1,000 and enduring a g-force of 20,000 pounds with an acceleration greater than that of a space shuttle.
There are about 3 million species of bugs in the world, you are bound to find a good variety in your own backyard. Please encourage your children to be respectful to the bugs they collect. God took the time to handcraft these little buggers. He personally knows each one of them just as He personally knows each one of us.