Five Benefits of Using One Curriculum for Multiple Children
Richele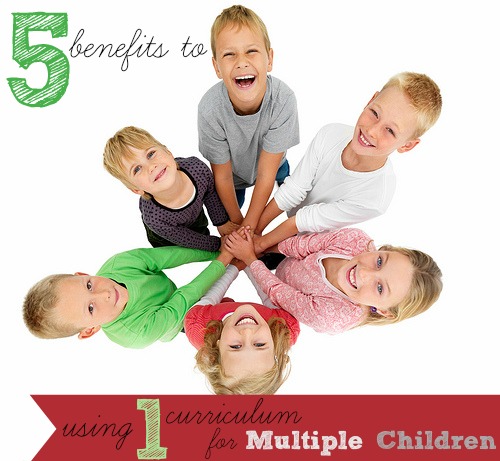 Research in the field of education is catching up with what homeschoolers do naturally:  teach multiple ages of children at one time.  Many schools are combining different grade levels and seeing the benefits of these children learning and interacting together.  Instead of a bunch of well-educated men in grey flannel vests and spectacles closely watching a experimental school day unfold, they should have asked homeschooling moms. We already knew these five benefits of using one curriculum with multiple children.
1.  Saves Money
Homeschoolers understand the importance of saving money.  The biggest expense a homeschooler will face is the cost of curriculum.  The ability to purchase one book for multiple children can save hundreds of dollars.
2.  Offers Simplicity
Combining subjects and students adds simplicity to scheduling your school day.  Instead of the teacher keeping track of three different science programs, she can simplify her day by using one science book with three students.  I like the math on that much better.  Using one book will allow the teacher to give full attention to the subject and the students.
3. Instills a Sense of Family Learning
Homeschooling encompasses more than education.  Create an atmosphere of curiosity and learning as a family affair by teaching all your children together.  Homeschooling will become the backbone of your family rather than an educational choice.
4. Kids Help Teach Kids
Children often are the best teachers of children.  When all the kids are taught together, they can help each other out as well as learn what it means to work together.
5. Brings Order and Cohesion to Your Homeschool
As your children will one day reflect back on homeschooling, what will they remember?  I want my kids to remember learning together, a teacher who loved to teach, and a world begging to be explored.
Using one curriculum allows for more freedom since true learning is in the world not a book.  We now explore subjects together and get done with school sooner allowing more time for exploration and field trips.  It also provides a sense of direction and expectation of what will be taught.  For instance, all my children started out learning the same time period in history.  Each year, they progress together, and we all know where we are want what to expect.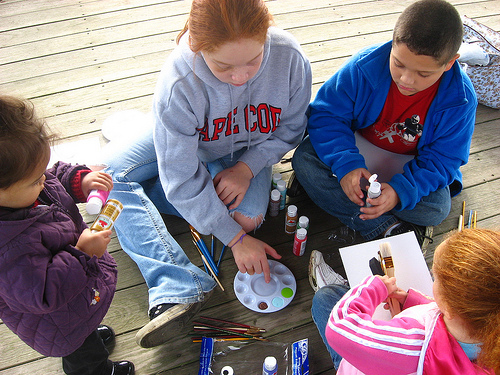 The Best Subjects to Teach to Multiple Ages
1.  Science
On first glance, science may appear to be a subject too complicated to use with multiple ages. However, if done correctly and with the right curriculum, it can be a wonderful learning experience.
My 8th grade son was hesitant at first to share science with his little third grade sister. He assumed the curriculum would be soft and compromise on quality when he said, "It will be babyish."  He changed his tune with Christian Kids Explore Science series  The curriculum explores all areas of science with children from 3rd to 8th grade in a challenging and engaging manner.
2.  Geography
Geography is a fun subject to teach to multiple ages.  Gather the kids around and explore a globe or go on a virtual trip to another country.  The kids quiz each other and talk about the topic at the dinner table.  My favorite geography book for multiple ages is The Ultimate Geography and Timeline Guide.  It comes with a CD with printables of maps and timeline figures!
3.  History
History is a family favorite.  Or perhaps it is just my favorite; it is hard to tell. My family began in ancient history and now we will venture into the Middle Ages.  They are all so excited to travel through history together.  Our time machine is The Mystery of History.  It offers plenty of activities for the kids according to their age, so all the kids are fully engaged and challenged.
Get creative and begin to share subjects among all your children.  Except math, most subjects are easily integrated for multiple ages.  With Illuminations, you can even schedule and combine literature studies and Bible as well.
Ah. . . homeschooling just got easier and it didn't mean a sacrifice in sanity or quality of curriculum.