What Do Earth Science and Clay Have in Common?
Richele

Exploring Earth and Space Science with Clay
When clay and learning live side by side, you know it will be a good day. Even my eighth grader's eyes widened with joy as I brought out the little yellow containers that held creativity inside.  He assumed it would be an easy day for him once the clay showed up.  Not so; this time the squishy substance would teach us about what's inside the earth.
As I opened the containers, my eight-year-old excitedly said, "I want to make the earth!"  She looked quizzical when I told her she would be making the inside of the earth.  I received and even stranger look when I asked her to get the dental floss.
Before we did anything, we read the lesson from Christian Kids Explore Earth and Space. The friendly tone focused the kids on the lesson rather than the cans of clay they knew we would be using.
What We Learned in Earth and Space Science Class:
We learned about rotation by running around a chair.
We learned about the earth's axis by making a child stand still, holding a body pillow around her waist.  Our approach was not exactly by the book, but she thought of the idea herself.
Minds were blown when my eight-year-0ld and five-year-old learned that the sun technically doesn't rise and set. It only appears that way because the earth is always moving.
We glorified God as we learned how precisely the earth is positioned in the solar system so that it is neither too hot nor too cold for life.
Yes, you missed a very full and exciting class.  Don't worry; you don't have to miss another one.  Christian Kids Explore is just a click away.
Hands On Activities Make Earth and Space Science Fun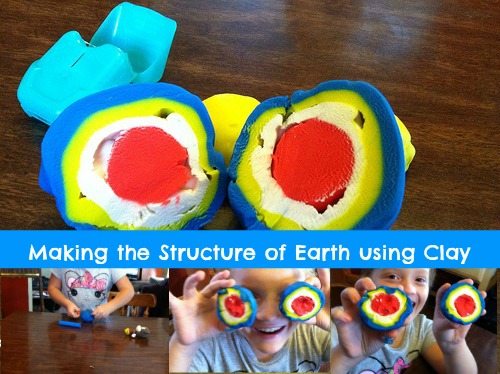 So what do clay and earth science have in common?  A lesson that makes you remember why you love to homeschool.
Once you make a three-dimensional model of the earth, you need to slice it in half to see the inner core, outer core, lower mantle, upper mantle, and crust.  The best way to neatly do that is by using a thin thread or dental floss to slice through.
Make science a day of discovery.  Make it a Christian Kids Explore day.
5 Free Biology Lessons
Looking to add some fun, hands-on activities to your homeschool?
Subscribe and receive 5 free lessons from Christian Kids Explore Biology about Plants in God's World.