Hands-On or Hands-Off Learning? Watch the Live Hangout
Jimmie Lanley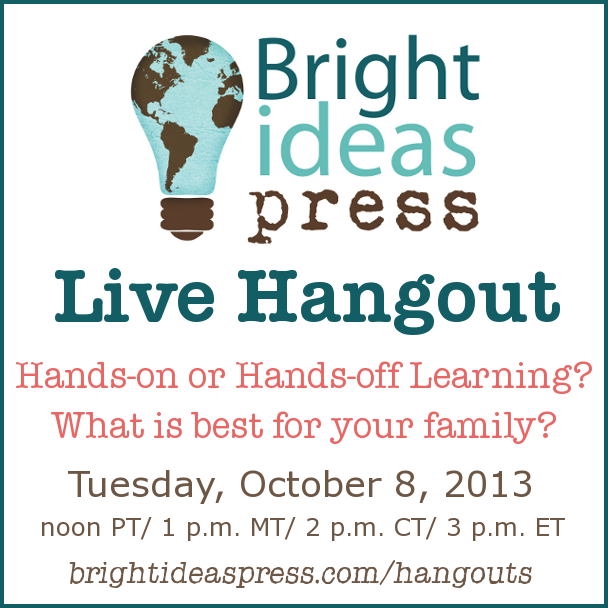 Here at Bright Ideas Press, we are beginning something new, and you are invited!
October through March, we will be holding live hangouts that you can watch as they happen. You can interact with Maggie Hogan, Tyler Hogan, and the other event panelists by asking questions and making comments on the monthly event page at Google Plus.
If the time isn't good for you, don't worry. Each hangout will also be recorded so that you can watch it anytime that is convenient for you.
See the entire hangout schedule for October through March on our hangout page. (Be sure to bookmark or pin that page because that is where the action will take place.)
October's topic is hands-on learning.
Date: Tuesday, October 8, 2013
Time: 3 p.m. ET (noon PT/1 p.m. MT/ 2 p.m. CT)
Watch: right here or on the event page.
We will be discussing the benefits of hands-on learning. We will also ask, "Do you have to do hands-on activities? Is it okay to be hands-off learners?"
Panelists for October include our own Maggie Hogan and Tyler Hogan as well as homeschool moms Judy Hoch and Ticia Messing.
All homeschool parents are invited to watch this live event and participate on the event page by asking questions and making comments. There is no registration required; however, if you click Yes on the Google Plus event page, you can receive a reminder via email that the event is coming up. You can also check your own events page on your G+ account to see all your upcoming and past events.