Hands-On Map Skills Lesson
Laurie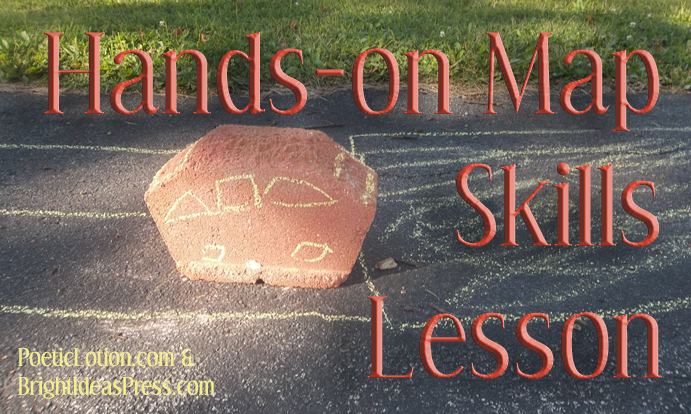 On a recent visit to the fair, I discovered that my children had only a rudimentary understanding of how to use a map, particularly my younger two. Since each and every experience leads to learning, I knew that the next day's lesson would center on map skills. Initially, we simply mapped the house, which my naturally artistic children enjoyed. They had fun adding little details and using symbols that could be explained in the legend.
My nine-year-old knew a little bit about maps from her latest Just Grace book, and so, imitating the characters in her book, we made maps of ourselves. Their legends included things like bug bites, a favorite hand, and best features. Yet, I felt that I wanted to something a little more memorable for our lesson —something grand.
Before the kids rose from bed, I used chalk to separate three large sections of the driveway, one for each child to map out our yard. I chalked in the road for each of my kids, but the rest was up to them and their imagination.
When the kids awoke, I gave them a plate of peanut butter and these instructions: recreate our property on your section of the driveway. Use the peanut butter to "plant" actual leaves from each tree in its proper place in the "yard." Be creative. Have fun.
The kids took off out the door to gather leaves from around the yard, spooning gobs of peanut butter to paste their findings. They recreated our tree swing with a button and yarn. They gathered wildflowers, leaves, and branches to form the tree line. They scooped up sand for mini-sandboxes. A brick became our big, red van. Flowers from my mums became little bushes surrounding the chalk-drawn house.
This was real, hands-on fun. There was laughter. There was competition. Even my five-year-old grasped the concept.
Once your kids understand how maps and legends work, you can include them in a wide variety of activities and lessons. Bright Ideas Press has always been the best publisher of maps and geography-related tools for homeschool families. WonderMaps is pure genius, making teaching easy and learning fun. Additionally, BIP has outline maps and atlases that can be integrated into any lesson to help students gain a deeper knowledge of the subject.
How do you integrate maps into your homeschool lessons? What is your favorite map-related activity?