How To Get Your Kids To Hate Science
Marci Goodwin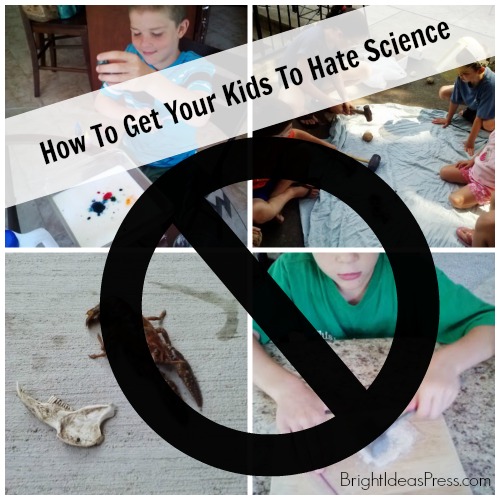 Think about this….Grown ups who say they don't like science were once kids who loved science. We are all natural born scientists. We come out of the womb wondering, exploring, collecting and analyzing data. We enjoy it until something happens.
For years, parents and educators have been quite successful in slowly taking away children's love for science and replacing it with fear and even repulsion. It's a gradual process and takes some effort, but it can be done. If we want to continue this tradition and get our kids to hate science, there are four ways to accomplish it.
1. Don't Touch That!
Kids love to get their hands on everything. They want to touch things, manipulate them, find out what they are made of and how they work. That's the beginning of scientific inquiry. So, it is best to nip that in the bud at a young age. Whatever you do, do not let your kids dig in the dirt, play with bugs, take things apart, or get their little hands on anything interesting for more than five seconds lest their young minds start down the path of scientific thinking.
2. Stay On Topic
It happens all the time. The science curriculum is teaching light or sound, but the kids are suddenly enthralled with the cocoon they found in the garden and want to know more. Um. . . I don't think so. Learning about the cocoon would be studying two types of science at the same time! Gasp! Too much!
Besides, if they are really excited about the cocoon, further study might fuel their love for science instead of the fear and disdain you are trying to instill. Stay on topic.
3. Break Out The Textbooks
Science is alive and hands-on. It is all around us. We experience it in our everyday lives. But don't tell your kids that. Break out the textbook and explain that science is in those boring pages. Make sure you make them memorize every large, unpronounceable word and hard to understand definition. Tell them that those terms are what science is all about.
4. Forget Experiments
Your science curriculum might suggest experiments. Don't be tempted. Experiments get messy. They are time consuming, and worst of all, they are fun! Having fun might cause your kids to want to do more experiments. Sometimes they might even want to learn more about the concept you are experimenting with. Stay clear of experiments. They almost always spark love for science.
Not Convinced?
If you still insist on nurturing your children's natural love for science, you'll want a curriculum that supports your efforts. Christian Kids Explore Science  from Bright Ideas Press is very hands-on science curriculum that lets kids learn and explore at their learning level. One last warning. If you want your children to hate science, use Christian Kids Explore at your own risk!
5 Free Biology Lessons
Looking to add some fun, hands-on activities to your homeschool?
Subscribe and receive 5 free lessons from Christian Kids Explore Biology about Plants in God's World.