Holiday Planning: Pow Wow Style
Suzanne Broadhurst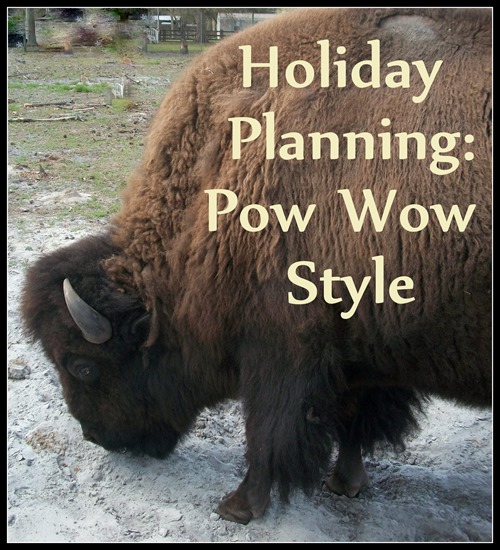 Raised in the American southwest, I was exposed to Native American pow wows. I've adapted that cultural event to help my family with holiday planning.  Here's how you can hold a Family Pow Wow in your very own living room.
How to Hold a Holiday Planning Pow Wow
Give Them a Head's Up
Let your family know a good half-day in advance of the upcoming pow wow.  Be sure to include your spouse.
Make a List
Make a list of all upcoming events that need discussing, deciding, and delegating.
Gather the Tribe
Make it cozy.  This is a fun time of family gathering, not an inquisition.
Pray and Listen
Ask your family to first pray and then listen to your entire list.  Otherwise, they may start insisting they get their way on items one through seventeen, but they might really like number eighteen!
Ask for Input
Get their thoughts and their suggestions.  Reassure them this is a safe time and place to share how they really feel about the holidays and its many events.
You may surprised.  The things you might have thought were on the We Love It list may be on the We Love Mom So We'll Do It list.
Take Notes
Jot down their thoughts and requests.  Immediately scratch out the items that everyone groans over. Be sure to request help with projects, assistance in the kitchen, and extra hands for clean up.  Write down their offers of help.  You will thank yourself— and them— later.
Make a Master
Use your notes from the Family Pow Wow to make a master list of events and give everyone copies. Even the little ones get copies.  If you are creative, you could translate the list into pictures for the non-readers. Be sure to include the dates of the events and all of their offers to help.
Somehow Hearts Mold – and Mend
Having pre-holiday Family Pow Wows have always been a special time for our family. No matter what was going on, even during times of poor health, poor pocketbooks, planning moments of celebration brought us all to the same page. And somehow on that page, we find our hearts are bound together, too.