Making History Interactive
Ticia Messing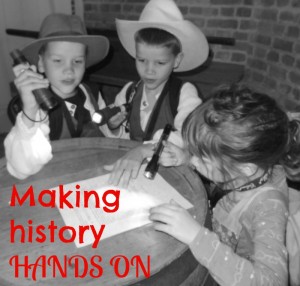 About a year ago I was talking with one of my Sunday School students about his favorite and least favorite class at school.  I knew he was homeschooled, and his mom had been raving about how much she was loving history with her kids.  Then he said, "I think history is boring."  I tried my best to tell him about the wonders of history and how much I loved it.  He looked at me and said, "I think we'll agree to disagree."  No matter what I said, he was convinced it was boring.
That is what most people think. And it makes me want to cry.  I love history.
So, I'm going to share with you a few ways I'm making history interactive so my kids will share my love of history.
Bring in historical movies
I know you were expecting me to start off with living books, and I almost did. But the thing that made the biggest impact for my kids in US history was Liberty Kids, an animated series that covers the American Revolution from the Boston Tea Party to the signing of the Constitution.  My kids ask to watch it over and over.  Even when we had long passed that time period, they dig the Liberty Kids videos back out.
Besides Liberty Kids, we watched the American Girl doll movies for their respective eras.  It gave them a much richer understanding than only reading our All American History book.  If you're looking for some movies to get you start watching, here's my gathering of World War 2 movies to watch with your family. Be sure to read the comments which add about twenty more movies.
Read living books
Are you ready to be shocked?  I read  books about the Holocaust to my twin seven-year-olds, and their six-year-old sister.  Cuddled up in a tent, we read books that showed how bad the Holocaust was while still offering hope.  We read about how a family helped smuggle kids out of danger or how someone shared bread with those who were hungry.  It was sad, and it was hard, but it was important to know.
If you have a good library and make a search of books, you can find enough age-appropriate books to cover most topics.  I've found books about the Trojan War, books on segregation, books on the Underground Railroad, and a story about how a young boy saved the Liberty Bell.  It's very easy to dismiss picture books as your kids get older, but it takes great skill to teach a difficult topic in a picture book. Picture books are usually well-written, so continue to include them in your book stacks.
Go on field trips
Our most memorable field trip was to Colonial Williamsburg. My children loved the week we spent there.  But that's a cross-country trip for many of us, and not everyone has the ability to go there. So look nearby instead.
What is local to you?  Does your area have historical markers?  Are there historical re-enactments in your area?  What about a county museum?
When we studied cattle drives of the Old West, we toured our town, looking for historical markers related to that time period.  We followed the path of Sam Bass, a bank robber shot down in our town.  We found his grave and looked at the location of the gun fight.
My favorite museums are the county ones because they are usually run by someone from the area who can tell you all the fascinating local legends.  Smaller museums are usually somewhat interactive.  My kids happily spent an hour in our county museum pretending to be cooks on a cattle drive.
Act it out
This is my boys' absolute favorite way to learn about history.  All I've heard since we started role-playing is "When are we going to act out a battle?"
Gather up some toy soldiers or building blocks and re-enact history.  Build a ziggurat; write a cuneiform tablet.  Why was the Battle of New Orleans a slaughter?  I can tell you from visiting the battlefield, it's amazing that wasn't worse.  Just that one battle makes a fascinating study.
A great resource for re-enacting battles is Junior General.  These are war game simulations that help to explain why one side won or lost or how close a battle was.  This was a great aid when we studied the wars in All American History 2.
Acting it out isn't limited to battles or building monuments.  A couple of weeks ago we learned about the Minoans, so we headed to the park to pretend to bull jump!  They all agreed it would be hard to jump a real bull since our playground equipment wasn't anywhere near as tall as a bull, and they could barely get on top of the jungle gym.
Thankfully, aside from a brief stint where I forgot the interactive learning, my kids have never said "history is boring." I hope they never do again.