You Already Know What You're Doing – Putting Aside the Lesson Plans
Lisa B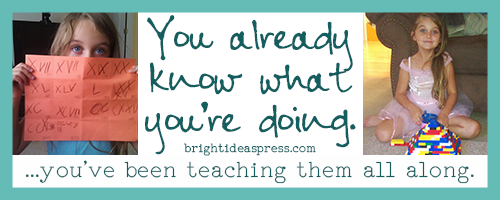 The Game Plan
I love having curriculum that spells the lessons out for me. It soothes my anxiety.
I know exactly what to do and when to do it.
I take those lessons and divide them by 36 weeks. Then I take each week's work and spread it out across 5 days. BAM, we have a school year game plan.
In my mind, this is the type of planning that will keep kids on track. It will cover our bases. When those pesky people show up to question our progress, I can whip out my handy-dandy school planner and show off all those pretty little checked boxes.
Reality of Our School Year
I was barely through the first six weeks of the school year, and we were already behind according to the lesson plans in our books.
For week 5, we managed to read The Mystery of History lessons. It was still early in Volume 1, so most of it was Bible stories we've read before. We didn't even look at the activities. I forgot all about our memory cards.
The thought of trying to catch up on all of the missed work was overwhelming for me. I knew it would only stress my girls out.
Hear me mommas:
Letting it go is okay.
You're not going to hurt the author's feelings if you skip a set of review questions. You won't ruin your child's future by skipping an experiment.
Maybe you aren't really behind, you've just hit a chapter that triggers napping.
You're Already Doing It
Let the plans go. Skip an activity. Take a rabbit trail. Pass over a boring lesson. Letting the "plans" go is okay.
It's okay because you DO know what you're doing. 
You've been teaching them since they became yours. You're still teaching. Every day, in every moment, with every decision, you are teaching.
Instead of doing all the activities listed in our lessons that week, we played with blocks and dough. We Googled pictures of cuneiform tablets and ziggaurats, and watched Ice Age. We  played catch-up without forcing it and we've never had more fun with our history lessons.