5 Things They Forgot to Put in the Homeschooling Brochure
Lisa B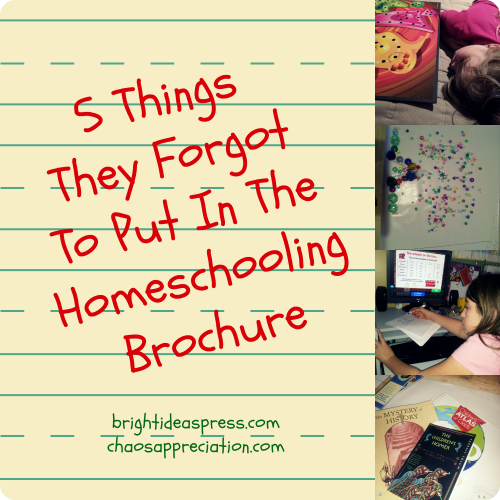 The first time a diaper exploded on my couch, I called my mom and cried, "They sure didn't put this in the brochure!"
The first time I found myself in a bathtub with a sick kid at 2 am, I held her and thought "If this had been in the brochure, I might have thought twice!"
Truth is, I wouldn't trade my children for the world— not even the dramatic one that just turned twelve. I love her too. She's the one that broke me in and showed me it was all worth while. She probably wishes she hadn't done such a good job since we subsequently added three more children to the bunch.
Homeschooling is like parenting.
You read all the books. You subscribe to all the blogs. You pin all the things.
Then you realize that there are a lot of things those homeschoolers in the books, blogs, and pins forgot to mention. I'm here to correct this problem by outlining the five things they forgot to put in the homeschooling brochure.
5. Science is Messy
I don't mean just exploding Mentos messy, or growing mold messy. I'm talking constant exploration of your environment, wearing anything and dissecting everything messy. I have chemistry trials in my bathroom, usually involving my shampoo and the last of my shave gel. There are pumpkins in various stages of decay on my front porch. We have Hot Wheels races to test friction. Rarely do these experiments occur during a planned science lesson. Most of them happen behind my back after watching an episode of Beakman's World. Even if I took them to a co-op class, the at-home learning would still happen at home. It would still be messy.
4. Not Everyone Loves Read Alouds
Oh the delightful daydreams I had of reading to my kids. Then I actually tried to read to them. Not only do I dread reading aloud, but two of my four kids don't enjoy it either.  We have pulled out the coloring pages, the blocks, the puzzles, and the dough.  We can usually get through a short Kindergarten level reading book, or a lesson from The Mystery of History because they are brief. Anything longer than that ends up with my pulling kids off the walls. It's not just their attention that needs improvement; my talent for reading books out loud could use some work! Brown Bear, Brown Bear is pretty easy. Children's Homer? You trying saying Phthia really fast three times.
3. Sleeping In Usually Means Staying Up
Oh yes, I am sitting here at 6 am, having my coffee in silence, knowing the neighbor across the street is scrambling to get kids ready for the bus that arrives in thirty minutes. The sun hasn't even considered showing itself, and it's rather cold outside. I can hear my twelve-year-old snoring. The three-year-old will be up soon only to fall asleep, sitting next to me on the couch. Sounds blissful right? Come visit again around 10 p.m. tonight.
Everything has a price, and if you want a calm, quiet morning ,you should anticipate the opposite come evening. Not every family has this issue. Not every homeschooler lets their children sleep in as late as I do. I just wish someone had pointed out the obvious correlation before I became accustomed to my morning quiet time.
2. Math is Everywhere
But that's a good thing right? Yes, mostly. I love that we can keep math journals and I can turn almost anything into a mathematical adventure. Sadly, my children do not enjoy this as much. It didn't take long before my oldest daughter realized that cooking with mom was actually sneaky math. Do not dare tell them that Minecraft teaches skip counting!
Lately, they've started questioning my motives whenever I offer to play a board game or do a craft. "Are we really doing math? Or are you actually just going to play with us?" I never thought learning to draw a line between family and school would be so hard. Sometimes, you have to just let the learning happen without acknowledging it.
1. Homeschooling is Exhausting
Teaching your children at home may well be the hardest, most exhausting, and most mentally depleting job you will ever refuse to quit. At my last out-of-the-house job, I spent countless lunch breaks on my knees, sobbing, asking God to please get me out of there. Now, I spend countless moments, hiding in my bathroom or my closet, on my knees asking God to get me through one more day. Not because I want to quit, but because this is hard.
I grew up in a society that joked about stay-at-home moms eating chocolates while watching soap operas. I used to come home from school to a tidy house and dinner on the stove. If that is the standard I am comparing myself to, then I will feel like a failure. It is hard to wake up and chase, listen, console, read, help, direct, redirect, cook, fix, bandage, wash, tidy, and educate all day, every day. Every day I thank God that I get to do it all over again.
Homeschooling is wonderfully exhausting.
There have been nights where I sat on my couch, burned out and frazzled, and wondered why.
Why did we have four kids?
Why did we choose to homeschool
Why can't I get everything done?
Parenting is hard. Homeschooling is hard.
My neighbor, with the kids hopping on the school bus right now, has a hard time too. My sister, who doesn't yet know the joy of parenting, has it rough as well.
Life is hard when we are trying to live up to unrealistic expectations.
As you roll out of bed, at whatever time, take a moment to remember that your family is yours, your choices are yours, and only you set the expectations for the day.
If you wrote a brochure on homeschooling, what would you say?
For More Homeschool Encouragement, Follow This Pinterest Board