Adding Mapping Activities For Mystery of History with WonderMaps
Amber Oliver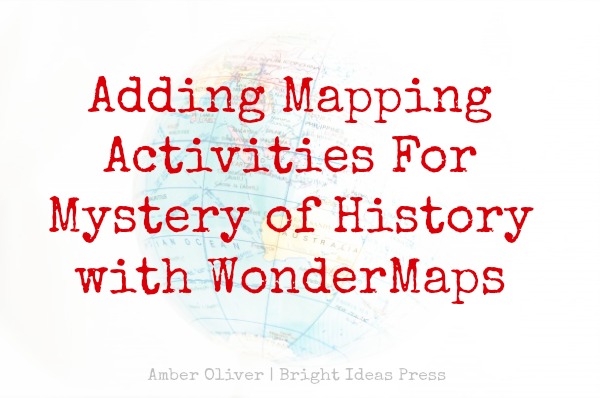 Mapping activities are a great way to combine history and geography, cement what you learned in a lesson, and work on map skills while you're at it. Mapping is a win! And when you combine The Mystery of History with WonderMaps, well, that's a WIN-WIN.
What is Mapping?
Mapping is a familiar term for activities that involve, maps. Mapping activities can include the creation of maps, notation on maps, notebooking with maps, and any number of activities that are focused on maps.
Used after a history lesson, mapping can be used to illustrate a battle, an event, an empire, a route, or some other elements of your history lesson. Mapping can also be used as a way to recall and practice what you have been studying so far: practice filling in countries, continents, capitals, geographical features, etc. The variety of ways to use mapping in your lessons is limited only by your imagination and the time you set aside for it!
Studying the Battle of Tours in Mystery of History Volume II? Print out a map!
The Benefits of Mapping
Why would you want to include mapping? There are many benefits of mapping activities, varying of course by the different ways you choose to include them and what you require out of them.
reviewing previous lessons
discoving new information while mapping
connecting an event with its time and place
converting abstract places read about into concrete places on the map
appealing to right brained learners with the creative aspects of mapping
appealing to left brained learners through the detailed elements of mapping
encouraging attention to detail
notebooking
feeling a sense of pride in a project well done
Mapping Paul's journeys from The Mystery of History
Tips for Teaching Mapping
Mapping is one of the easiest activities you can ask your children to do. Still, if it's new and foreign, or too open-ended for your literal minded children, it can seem overwhelming at first. Ultimately, it's up to you to determine how much detail you want, how much creativity you expect, and how many rules you give your children.
I remember a middle school teacher who required that our color pencil shading lines were horizontal and uniform across our map. I never understood why at the time, but now I realize that mapping is about more than just getting the facts onto the paper. Mapping activities are bigger picture projects; mapping is about combining facts and details in a tidy, picturesque format that you can be proud of.
Here are a few tips to help your children achieve that goal.
Give clear guidelines of what is required for each activity — For example, give the directions, "use colored pencils, keep shading uniform, label all countries, etc."
Allow room for creativity — Require only what you need to achieve for the goal of the activity, and leave room for creative expression.
Provide suggestions and tips — Suggest tips when you see the opportunity, showing how to use a ruler as a guide for labeling or how to apply pressure when shading.
Let your child take ownership of their project — As long as your guidelines are met, let your child have free reign with the project.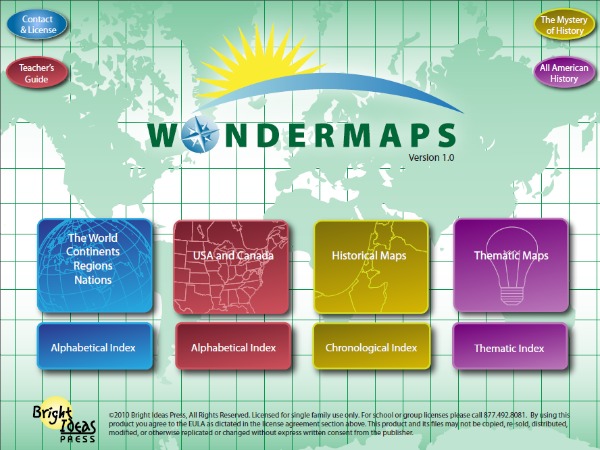 Mapping With WonderMaps
One great tool for mapping activities is WonderMaps software that allows you to choose a variety of options for the map you want to print, depending on your lesson and activity. Choose to include boundaries, capitals, rivers, color overlays, or nothing at all. If you want to include boundaries and city markers for capitals but no labeling, you could create a page to review the capitals of countries or states. The possibilities are numerous! If you would like to read more information about using WonderMaps and how it works, see WonderMaps for Relaxed Geography.
 How do you use mapping to teach history and geography?
Background Image Source: Political Globe by Alex Grichenko