Join the Live Hangout: Adding Geography to Your Homeschool
Jenn Hamrick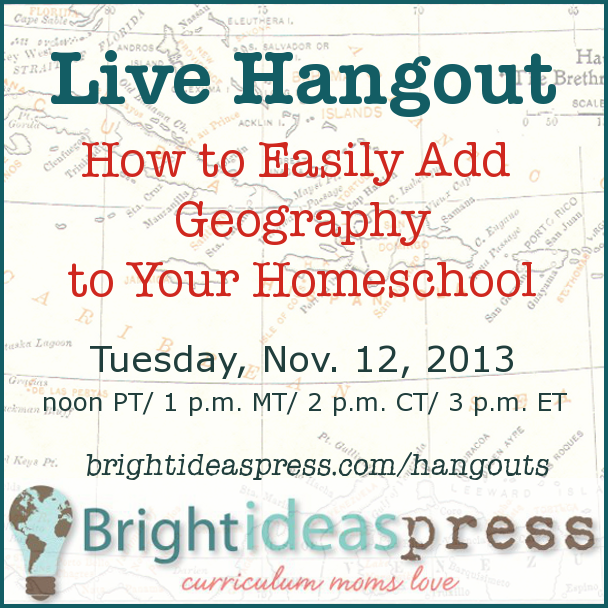 The monthly hangout for November happens on Tuesday, 11-12-2013 at 2 p.m. ET.
We will be discussing painless ways to add geography studies to your homeschool routine. Serving on the panel are Tyler Hogan and Maggie Hogan from Bright Ideas Press as well as three homeschoool moms: Heather Woodie, Amber Oliver, and Ticia Messing.
They will be discussing these questions and more:
Why is geography often a neglected topic?
What is your approach to teaching geography?
What are you best ways to quickly and easily add geography to homeschool lessons?
What are your favorite geography activities?
How can you study geography with multiple ages together?
How would you encourage a child who loves maps and is crazy about geography?

How to Watch the Bright Ideas Press Geography Hangout
There are three ways to watch the live event.
1. On the main hangout page here on the Bright Ideas Press site.
2. On the Google Plus event page.
3. On our YouTube channel.
If you watch via the G+ event page or the YouTube channel, your comments or questions may be brought into the live discussion. Unfortunately we cannot bring in any comments you leave on this blog post. You will need a Google Plus account to leave comments on the event page, but you do not have to have one to watch.  New to Google Hangout Events? Here is some etiquette to follow.
If you cannot make it at 2 p.m. ET, visit those same three spots above to watch the recorded video. If you like the video, be sure to pin it to Pinterest, share it on Facebook, or like it on YouTube.