Hands-on Colonial American History Projects
Laurie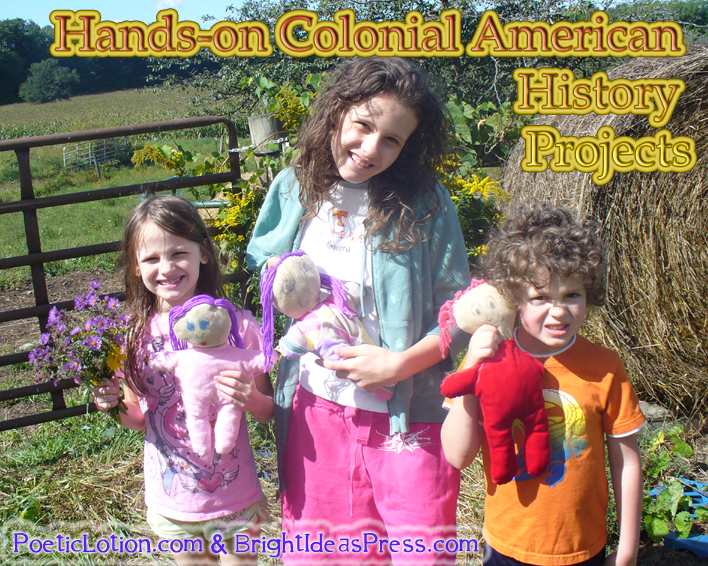 I hated history in school. I made good scores, but I always felt like I was reading about boring things that happened long ago which nobody cared about.
And then I began homeschooling.
History is one of my favorite subjects to teach simply because of the variety of hands-on activities and amazing details of our own collective past. If done right, you can make history come alive for your students and even for you.
Pinterest is my favorite go-to site for homeschooling projects. When I planned out our lesson for Colonial America, I relied heavily on the variety of boards available. Check out my Homeschool History board and Bright Ideas Press's boards for some excellent hands-on ideas. As far as history spines, of course, I recommend The Mystery of History and All American History.
As we read through early American history,  from the landing at Plymouth Rock through the early start of our country, we did various projects that corresponded with the time period. Here are some ideas  we tried. I would love to hear any additional Colonial America activities that worked for your family.
Homemade butter We used heavy whipping cream in zip-top plastic bags.  The kids initially enjoyed the shaking involved, but it does take a lot of agitation to get the butter to form. This may not be appropriate for younger children.  The homemade butter was delicious, and the kids even drank the buttermilk that is a by-product.
Handmade rug We used cuts from old t-shirts and a hula hoop to create a rug. We discussed how in Colonial America, families didn't buy from stores, but made quite a bit of the items they used.
Hand-sewn doll

: In making the rug, the kids began asking about toys. We did a lesson on types of toys and games that kids of the period played with and then made our own dolls using a simple pattern I found on the Internet.

Corn husk doll

: In keeping with the spirit of homeschooling and self-learning, my daughter found out that Native Americans often made faceless dolls out of corn husks. She dried the husks from our corn-on-the-cob and made her very own doll. Why were the dolls faceless? Because if you put a face on them, they would only have one emotion. Faceless dolls encouraged children to use their imagination and enabled the doll to have a full range of emotions: happiness, sadness, sleepiness, or anger.

No Electricity Night: Of course, early Americans did not have electricity. This was a difficult concept for my always-plugged-in children to grasp. So we made lists of everything that ran on electricity – including the battery-powered items that used electricity to charge. Then we lit candles and played board games. (Had I really gotten into this, we would've made a recipe from Colonial times, perhaps over the grill. But I wasn't quite that ambitious.)
Candle-making

: Speaking of electricity, what exactly did early Americans do for light during the dark of night? Candles, of course. We had a blast dipping our own candles, although be prepared for a hefty clean-up on this one.