Homeschool Luxuries
Suzanne Broadhurst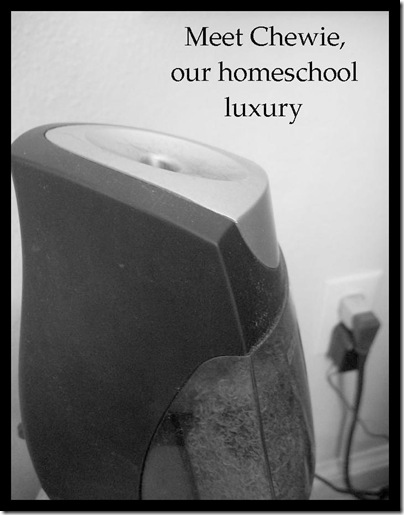 Are you enjoying the luxuries of a homeschool lifestyle?  I love sleeping in, sipping cider, and watching pumpkins go by.  Here are a few educational luxuries I wish I had purchased sooner rather than later:
 Three-Hole Punch
Not only can you punch more paper, but you can also do it three times faster.  No more dropping the stack after the first hole is punched while balancing a toddler on your lap.  Slide the paper, smack the bar, and three holes appear! 
Plus, the smacking of a 3-hole punch through layers of worksheets can be quite therapeutic.
 A Homeschool Planner
For many years, I wrote down what we did after we did it. In the younger years, life was the lesson.  We lived it; we wrote it down. Call it a post-planner, instead of a pre-planner.
But the time came when we needed a pre-planner.  We had too much going on medically and educationally for this mama-mind to remember on cue.  Move over Winnie the Pooh journal! We're switching to daily calendar pages with categories of to-dos and lots of empty space.
Electric Pencil Sharpener
I bought my first electric model in my last child's senior year of high school.  Why, oh why did I wait so long?
Learn from those who have gone before you:  go electric.
A Cordless Phone, Or Not
I date myself with this one.  Back in the day of nursing a baby and chasing a toddler, my mid-1990's Mother's Day request was for a cordless phone.
Seems like the pendulum may have swung the opposite direction these days.  Moms might need to splurge on a short little cord, like a tether that doesn't quite reach, so they can plug their phone into a far away wall providing an instant excuse not to answer it.
A Very Cozy Chair
When returning home from an errand-filled day, there's nothing like a cozy chair to sink into.
A cozy spot is also an invitation to your children: Talk to me, I'm here for you.  I have nothing more important than you – and this chair – at this moment.  
Just be sure to put the phone on its tether first.