Studying Christmas Trees
Marci Goodwin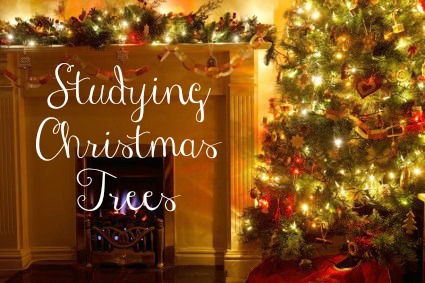 Each year, our family ventures out in search of the perfect Christmas tree. Sometimes we visit a local tree farm. Sometimes we visit the local hardware store parking lot. All are full of various types of evergreen trees – pine, fir, and spruce. We have no favorite. We choose the tree that strikes our fancy each year.
In the past, we've done more than decorate our tree when we get home. As good homeschoolers, we studied them!
Christmas Tree Facts
The most popular Christmas trees are scotch pine, white pine, balsam fir, douglas fir, noble fir, and fraser fir.
Over 25 million Christmas trees are sold each year in the U.S.
For every Christmas tree harvested each year, 1-3 seedlings are planted in its place.
The average growing time for a Christmas tree is 7 years.
California, Oregon, Michigan, Washington, Wisconsin, Pennsylvania, and North Carolina are the top Christmas tree producers in the U.S.
Christmas Tree Science
Christmas trees are interesting. Their leaves don't turn color, fall off in autumn and come back in the spring like deciduous trees. They keep their green leaves all year long.  This makes Christmas trees conifers or evergreens.
The shape of Christmas tree leaves are special, too. They are hard and narrow, and called needles. These  narrow leaves do not lose much water to evaporation. So, conifers need less water than other trees and can grow in dry places where other trees cannot.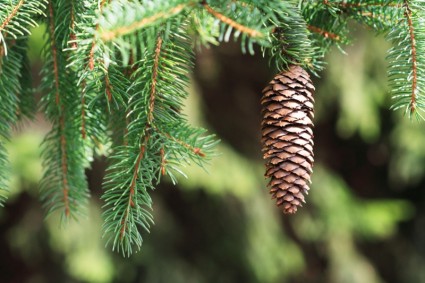 People often collect pine cones. These are the seed carriers of conifers. The seeds are contained inside the scales of the cones until the scales open and the seeds fall to the ground.
Identifying Christmas Trees
Before you go to get your Christmas tree, gather some resources to help you identify the trees you see. If you have an artificial tree, you can still visit a tree farm for an inexpensive field trip. Here are two handy tree identification resources:
The Arbor Day Foundation has amazing tree identification tools on their website. They have guide books to order, online guides and even an tree ID app (geeky swoon)!
Education.com has a Christmas tree identification lesson idea with a simple printable guide.
Christmas Tree Links
Study Christmas trees with your kids, and you'll never look at them the same way again!