Five Gifts That Last Longer than Christmas
Jasmine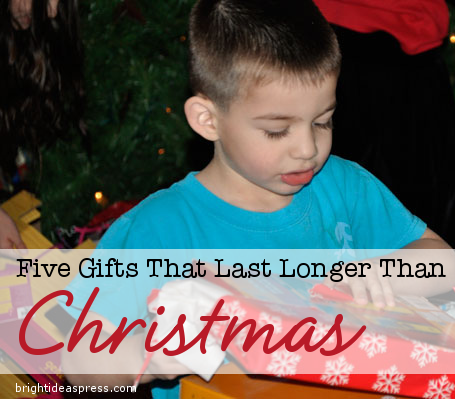 I am usually a last minute shopper, so it is about this time every year that I go into panic mode and start scrolling through websites trying to find fun and educational books, games and toys. Perhaps because I am pregnant, this year I am a bit more reflective and have been thinking on the true gifts I should be sharing with my children. Here are Five gifts that will last longer than Christmas.
1. The Gift of Time
In the hustle and bustle of the holidays (and in everyday life), it is easy to get so busy with the pressing needs that we go full throttle morning to evening, missing life in between. I don't know how many times my little ones ask to help and I reply, "Not right now, I just need to get this done."
Sometimes "getting it done" should not be the goal.
Take some extra time to live in the moment and enjoy the gift of spending time with your children. Snuggle them close. Listen to them laugh. Look into their eyes when they speak to you. Let them know that you cherish every minute with them.
2. The Gift of Experiences
For Christmas this year, two of my girls have asked for worms. Yes, red worm wigglers. We have never owned worms before (other than the finding a few in the garden) nor do we know anyone who has. But these two girls are thrilled at the idea of getting 2,000 creepy crawlies in the mail.
Do they know what they are getting into? Not really
Could all their worms die and the entire operations be a bust? Yes.
But the gift to my children isn't really the worms. The gift to them is the experience of learning about something new, stepping out in anticipation, and giving it their all.
3. The Gift of Finding the Right Notes
Tonight I was laying in bed listening to three of my girls work on a new bluegrass hymn. All of the girls have learned basic music skills, but when they work on a new song they expand their playing past the basic skills. The notes move beyond theory into the realm of emotion.
So as I am sitting there listening to them work it out, the music doesn't sound very good. They keep stopping and starting. They play the song in one key then switch to another. As one plays her part, the other one picks out several different notes, trying to find the right combination to complement the other.
And before long, the pieces start coming together and the beauty of the song rings out.
If they hadn't been allowed to fumble through finding the right notes, the music would have continued to be basic and bland. But because they had the security of a supportive listener, they were able to push past the mingled sounds into a new realm of delight.
4. The Gift of Being Able to Shine
Everyone wants to feel like they excel at something special. Because our children are each unique individuals, we have the opportunity to help them find the special thing they excel at and let them truly shine. (I am not talking about them being prideful or boastful, but rather finding the gift God has bestowed on them and helping them develop the gift for God's glory.)
I will admit that sometimes this can be a difficult because our ideas of our children's talents differ from how they see themselves. This is an area that requires time and prayer, but it is worth the effort.
When a child realizes that he is gifted in a certain area, he takes great satisfaction in using that talent to bless others. It also helps him realize that not just everyone can fill his shoes. God has a special purpose just for him and has equipped him to fulfill that purpose.
5. The Gift of Love
When it all comes down to it, this is what it is all about. Because we are at home with our children day after day, we have a unique, God-ordained opportunity to share the love of Christ with them each day. The tangible love they feel from us as mothers and fathers models the ultimate love the Father has for His children.
Throughout the year, our children may be faced with many challenges and trials, but it is the gift of love that will carry them through.