Five Activities for Children During Read Aloud Time
Lisa B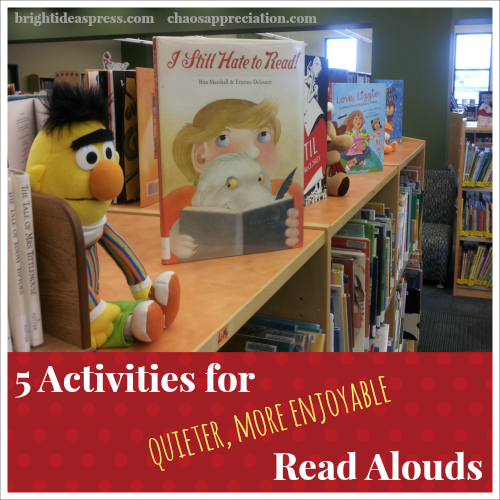 Do you struggle with read alouds? I do. If I'm totally honest, I don't like them. I get frustrated when the kids seem not to be  listening. I take it very personally even though I shouldn't.
I'll also confess that I'm jealous of the read-aloud-loving moms out there that can sit for hours and read without blowing a gasket.
I still want to read to my kids, so I set out to find a way to keep them occupied but still listening. After a lot of trials and errors I found five activities that worked well for us.
Five Activities for Read Alouds
Play Dough– We lay down a dollar store shower curtain to help keep the mess to a minimum. I can read from the couch while they made dough recreations of the story on the floor.
Murals – Unroll paper onto the floor and let them doodle the story setting while you read. We were blessed to find a warehouse store with giant rolls of school paper, but before we had that, I simply used the solid white back of old Christmas wrapping paper.  Use smaller sheets of paper to create scenes from the story and tape them together like a movie reel when the book is finished.
Hand puppet – Sock puppets, paper bag puppets, or stick puppets are relatively easy to make. 
Puzzles – Small puzzles can be found in the dollar bins of several department stores. We can often get through several chapters before all the children completes their puzzles.
Musical Mats –  Combine all the ideas in a series of stations. Use bathroom rugs, oversized placemats, or door mats as a base and put one activity on each mat. Rotate around the stations every page or chapter.
Wondering why LEGO blocks didn't make the list? Have you ever listened to a kid rummage through a bucket of LEGOs? Exactly. Not only is the noise deafening, but our little three year old likes to destroy things. We never get to page two before someone is crying over a castle's being destroyed. Silent foam blocks do work, though.
What do you use to keep your children busy but attentive during read aloud time.