Five Resources to Prepare for Nature's Winter
Heather Woodie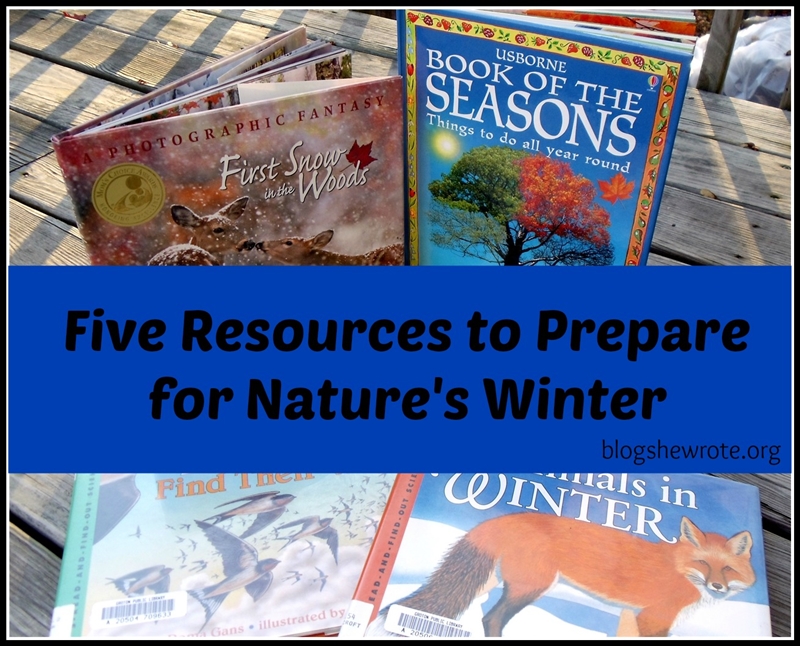 Inching ever closer to the winter season in the Northern Hemisphere means colder temperatures for some and snow cover for others. Certainly as the harvest is in and we prepare for colder weather, so are the animals and plants around us. Today I'm sharing a few resources to help you prepare for nature's winter with your kids.
Five Book Resources to Enjoy Preparing for Nature's Winter
From the Let's Read and Find Out Science series, this book goes over the signs of winter and how animals prepare for the winter season. There are examples of migrators, hibernators, gatherers, and foragers (animals who must hunt all winter because they do not prepare). Finally, the authors shares ways to help the animals which must search for food through the winter with a reminder that if you begin feeding the birds, you must continue through the winter since they abandon other efforts to forage and rely on your food source.
Most children learn that birds migrate and fly south, but do they know why, how, or how difficult it is? Another in the Let's Read and Find Out Science book series, this title describes the details of bird migration. It shares how ornithologists track birds and learn about migration. Your children will learn about flyways, how birds find their way, and how high birds fly during migration. You might enjoy mapping bird migration with the Geography Quest: Bird Migration Edition.
This book is a wonderful photographic fantasy about a fawn wondering if he's ready for winter. The fawn encounters many changes in the air and watches the other animals of the forest preparing for winter. The other animals know the first winter storm is on the way, and they know the great gray owl is returning. The photos in this book are brilliant and bring to life the colors of autumn as they lead to the first snow of the season.
I mentioned this one in my fall resource list, but it's worth mentioning again. The detailed illustrations depict natural life in a square inch of space in a backyard from below the ground all the way up to the sky. There are many activities and exercises in the book along with information about what the critters are doing for the winter. There are other editions of One Small Square for other ecosystems such as ponds, shores, and the woods. This series is a wonderful addition to any homeschool.
 This is a book of things to do all year round. There are crafts, recipes, and art projects for each season of the year. You'll also find the star chart for each season for each hemisphere. Clear winter nights are special times to star gaze. In line with this time of year, there is a section on animals and plants preparing for winter plus tree skeletons and twig keys for winter trees. Usborne is a British publisher, and you'll see some wildlife native to that country in addition to the familiar species found in North America.
How is your family preparing for the cold weather season?