Studying Dogs: Creation Science Homeschool Co-Op
stacey lane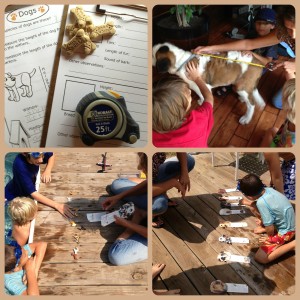 If you were to hang out with me in real life, you would know odd coincidences happen to me quite often. One year in our homeschool after finishing the book Old Yeller, we found a skunk with rabies in our yard. Then after studying electricity we had an electrical fire in our washing machine. Our co-op study of lesson 5 from Christian Kids Explore Creation Science has a similar coincidence.
As normal, we took a very hands-on approach to teaching our boys about dogs. We planned a field trip to the home of a friend who has six dogs: a Saint Bernard, a basset hound, a Pomeranian mix, a terrier, and two yellow Labrador retreivers. We wanted the boys to compare the dogs and observe the variations within the dog species.
I created two notebooking pages to help the boys understand how to measure a dog and to record their observations.
The morning of our scheduled field trip, we got an email informing us one of the dogs was missing. While we were trying to decide to either cancel or go help search, we got word the dog had been found.
Did I mention our literature book during this time was Angus Lost?  Of course, after this experience, when we read it out loud, we substituted the missing hound dog's name for Angus's name.
We gathered the six dogs and looked at their overall size, the length of their hair, and the sound of their barks. Our friend shared the history of the breed and the variations within the breed, including photos of nine different Saint Bernards she had shown in various dog shows. She even had a real whiskey keg that Saint Bernards are famous for wearing.
We ended our time together with a dog challenge in the pool. Using selected dog fact cards from the Dog Fandex and small toy dogs that matched the fact cards, we had a race. After we threw the toy dogs into the pool, the boys had dive in, retrieve the toy and match it to the correct fact card.
If you don't have a friend with six dogs, a trip to your local animal shelter or pet store would give you a chance to observe different breeds of dogs. And if you don't have a pool or it's too cold to swim, use another active way to engage your children in a learning activity.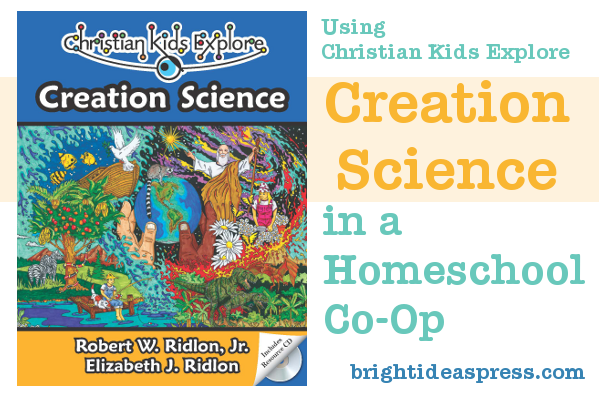 This is part of a series of posts about using Christian Kids Explore Creation Science in a homeschool co-op* of two moms and three boys grades 7, 4, and K.
Read other posts from this series:
*Learn more about using Bright Ideas Press curriculum in a co-op setting.
5 Free Biology Lessons
Looking to add some fun, hands-on activities to your homeschool?
Subscribe and receive 5 free lessons from Christian Kids Explore Biology about Plants in God's World.