5 Unconventional Educational Activities for Sick Days
Lisa B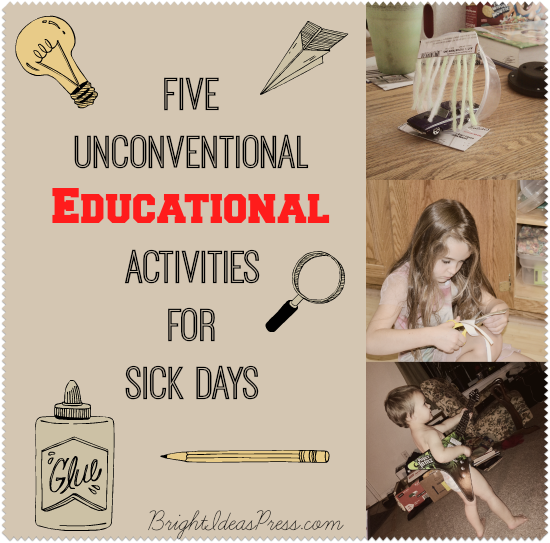 Sick days are the quicksand of our homeschool. It seems the harder we try to get anything educational accomplished, the less we get accomplished. This time of year, there is always someone in our family not feeling up-to-par, but taking half-days and sick-days all the time is not an option.
We recently had an entire week off from school while I recovered from surgery. Despite my efforts to plan lessons in advance and lay it all out for them to work independently, my kids just weren't ready to be self-led learners. I had to break out of my homeschool box and come up with some way to bring education into our day. Here are my five unconventional educational activities for sick days.
Role Reversal Reading
Normally, I am the one doing the reading aloud. Occasionally, our oldest will read a lesson from The Mystery of History to her younger sister. This week, I invited the kids to read to me! I gave them time to read anything of their choosing to me while I rested. Even my pre-readers had time to sit with me with favorite books to "read" based on the pictures. Who knew a fire truck board book could be so entertaining?
Make Me A List
I wanted to sneak in some handwriting practice and hone their observation skills a bit. I don't know about your kids, but mine are famous for saying they can't find their shoes when they are standing right in front of them. I handed each of them a note pad with adjectives written at the top. The older kids had to find as many things as they could in the house that fit the description and write them down. The little ones draw pictures of the five things instead of writing the names. Some of our adjectives included yellow, squishy, sweet, loud, rectangular, and electric.
Invent me a Thing-A-Majig-Inator
We have a bit of a crush on Perry the Platypus. If you've never heard of Phineas and Ferb (the show involving Perry the Platypus), I'll explain the basics. Phineas and Ferb are brothers with a pet platypus named Perry that is really a secret agent fighting to save the world from Dr. Doofenshmirtz. Dear Dr. Doofenshmirtz is not your typical mad scientist; instead he creates "Inators" in his attempt to take over the area where he resides.
Playing off of our love for Dr. Doofenshmirtz, I had the kids collect toilet paper rolls, boxes, scraps, and paper which they used to invent me a Thing-a-Majig-Inator. A few of the things I asked them to create included a Warm-Up-Mom's-Feet-Inator, a Vanquish-All-Bird-Squawking-Inator and a Keep-Mom's-Coffee-Warm-Inator. None of them worked, obviously, but it was a ton of fun to see what they created.
Sing, Sing a Song
Making a joyous noise brightens everyone's day, right? I challenged my kids to either learn a new song or write a new song to cheer me up. Our oldest loves to write her own music, so she set off on her own to compose me a lullaby. It was an interesting lullaby, and a tad too upbeat for me, but she showed some strong rhyming skills. Her younger sister set out to teach the little ones a new song, The B-I-B-L-E, and had them perform it for me before dinner. I'm certain Lil Man was the only one of that trio that didn't already know the song, but it was sweet to see the teamwork.
Meal Planning
This idea was greatly inspired by the countless hours of Food Network I watched in the hospital and my twelve-year-old's constant request to be "Mom-for-a-day." Her task was to find five dinner meals using only the cookbooks I have on hand. They had to be food that she knew everyone would eat and could not require kitchen equipment that we did not already own. Then she had to list out all of the necessary ingredients, adding up quantities for ingredients used in multiple recipes, and compile a master grocery list. Last, she needed to split her list into items we already had in our pantry and items we needed to purchase. The important part in my mind was her adding the ingredients. I love sneaking in math where she isn't looking.
Odds and Ends
Never underestimate the educational value of a good card game or a good board game. Yahtzee is a favorite around here and can easily be played, curled up in bed or on the couch. A one dollar crossword or word-find book  is another easy entertainer with educational value. We also printed off outline maps with WonderMaps and colored them in while watching my favorite cooking shows. They enjoyed looking on our globe, and then finding the matching map for the country/state of origin for the style of food being prepared. 
Mom-sick days, kid-sick days, and everyone-just-feels-blah days don't have to end up being documentaries-on-Netflix days.  They don't need to end up with an absent mark on your planner either. Learning is happening all the time, and some of the best lessons come filled with laughter, creativity, and lots of duct tape.