Christian Geologists
Amy Stults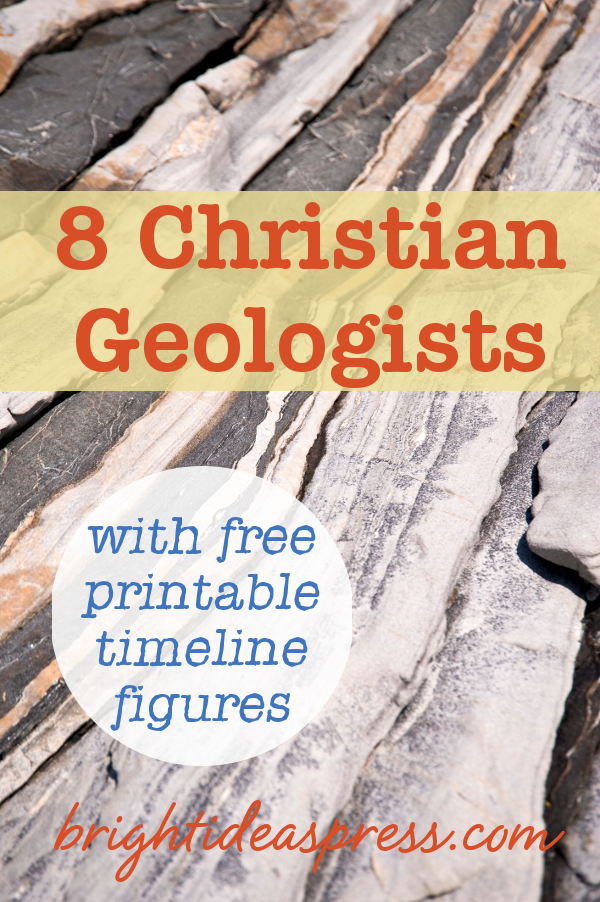 In a previous post, I introduced you to eight brilliant minds who specialized in biology and natural sciences. These men strongly believed in a Creator and those born after Darwin's time were outspoken opponents of evolution.
In this edition of my christian scientists series, I will share scientists who specialized in the area of geology and the study of the Great Flood. In addition to reading this post, you can download a printable PDF with timeline figures of all eight Christian geologists.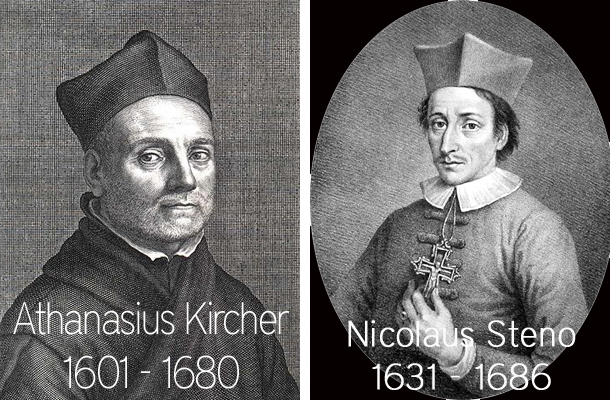 Athanasius Kircher was born in what is modern day Germany in 1601. He was a member of the Catholic Society of Jesus, and in addition to publishing numerous studies on geology, he deciphered ancient Egyptian hieroglyphs, diagnosed the plague as being caused by an infectious microorganism, and invented several devices still in use today.
Nicolaus Steno was born in Denmark in 1638. His investigations with rocks and fossils were so groundbreaking that he is credited as the founder of modern stratigraphy (the study of rock layers) and geology. However, unlike modern geologists, he was the first of many to attribute the layers to Noah's flood. He believed that fossils were the remains of the plants and animals that were living and buried rapidly at the time of the flood.
Scripture and Nature agree in this, that all things were covered with water; how and when this aspect began, and how long it lasted, Nature says not, Scripture relates. – Nicolaus Steno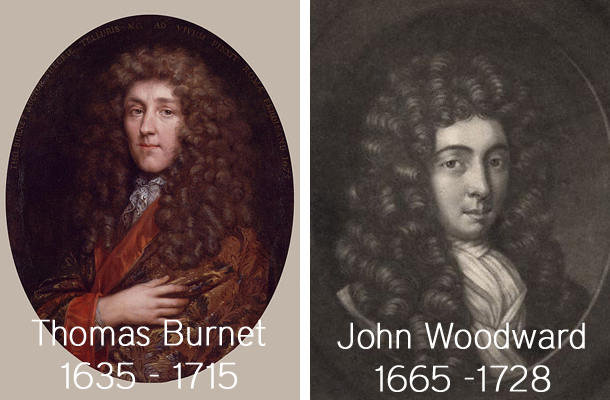 Thomas Burnet was born in England in 1635. Burnet was author of The Sacred Theory of the Earth. His theory was a unique one that suggested that prior to Noah's flood, the earth was hollow and all of the water from the flood was contained within. He speculated that the mountains and oceans formed after the flood. The Moon's ridge Dorsa Burnet was named after him.
John Woodward was born in England in 1665. He is best known for his founding of the Woodwardian Professorship of Geology at Cambridge University. He had an enormous personal collection of fossils and also founded a great paleontology museum at Cambridge University.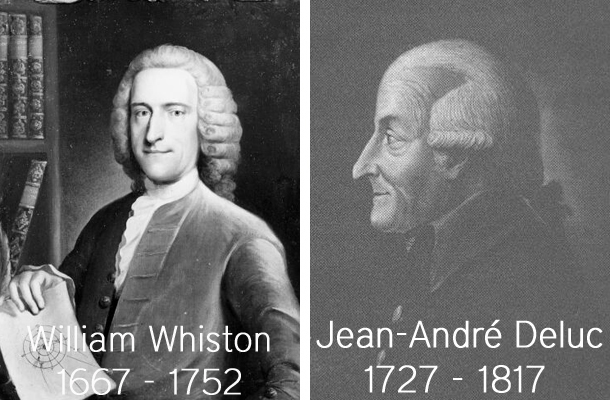 William Whiston was born in England in 1667. He was a mathematician, historian, and geologist, as well as the successor to Sir Isaac Newton at Cambridge University. He was greatly attacked for his beliefs in Biblical literalism.
Jean-André Deluc was born in Switzerland in 1727. He was a well known geologist and published a series of books on his geological travels in various parts of the Europe between 1810 – 1813. He is credited with coining the term geology. Deluc, a crater on the Moon, was named after him. He invented a portable barometer and argued for the use of mercury in thermometers.
According to the conclusion of Dr. Hutton, and of many other geologists, our continents are of definite antiquity, they have been peopled we know not how, and mankind are wholly unacquainted with their origin. According to my conclusions drawn from the same source, that of facts, our continents are of such small antiquity, that the memory of the revolution which gave them birth must still be preserved among men; and thus we are led to seek in the book of Genesis the record of the history of the human race from its origin. Can any object of importance superior to this be found throughout the circle of natural science? – Jean-André Deluc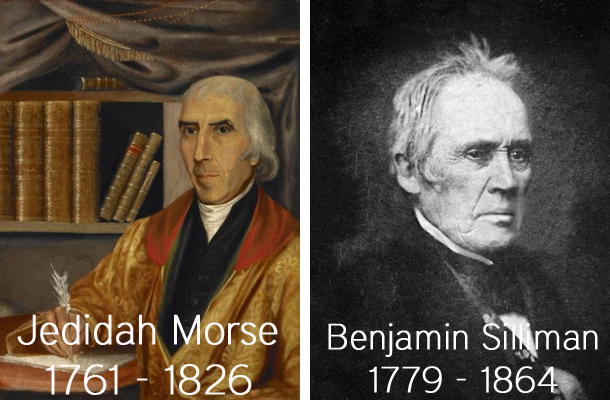 Jedidiah Morse was born in the state of Connecticut in 1761. The father of telegraph inventor Samuel Morse, he was later credited as the father of American geography. He influenced our educational system by creating the first American geography textbook. He was a devout believer in Noah's ark and the great flood and included mention of them in his textbook.
Benjamin Silliman was born in the Connecticut in 1779. He was one of American's first and foremost geologist, mineralogists, and chemists. In addition, he was one of the first American university professors of science. He founded the American Journal of Science and was the Association of American Geologists' first president.