Filling in the Homeschool Gaps
Jasmine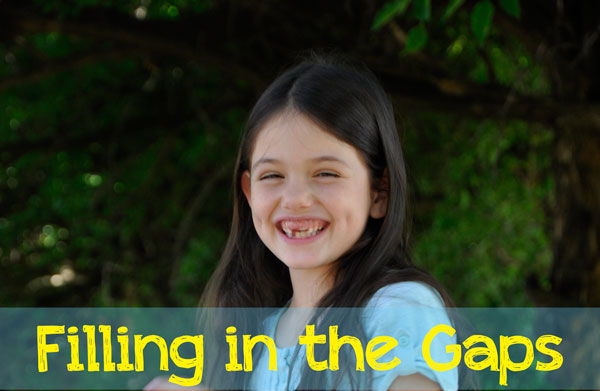 From the moment I started homeschooling thirteen years ago, I have always been very eclectic in my curriculum choices. Part of the excitement of homeschooling was finding just the right curriculum to meet our family's needs. Of course I heard from the critics how dangerous this could be. After all, I would be leaving gaps in my children's education!
Thankfully, I didn't pay much attention to these warnings. Maybe it was because I was still in the honeymoon stage of homeschooling and didn't think anything could go wrong in our homeschool. Or maybe I was naive and couldn't fathom what these gaps might be. Either way, I went merrily on my way and didn't give it a second thought until many years later.
That's when panic hit me!
All of a sudden my two homeschoolers became four, and then there were toddlers and newborns, and life got so busy. I woke up one morning worried that I had ruined my kids because I hadn't taught them everything they needed to know. I had left gaps in their education!
What are gaps?
When I talk about a gap in my child's education, I am referring to some information, knowledge, or skill that they need to know and for whatever reason, they don't. To me, gaps are very personal. I don't feel like my child has a gap in their education just because there is a checklist somewhere that says all third graders must master "x,y, and z" and my child has only learned "x and y."
No, I think of a gap as something that is necessary in my child's life that has not been mastered. For instance, if my seven year old comes to me to tie his shoe once again, I should realize that he needs to learn to tie his shoes. If my high schooler is working on algebra and still has trouble with the multiplication facts, we should probably work on that and get them up to speed. Those are examples of gaps.
How do gaps happen?
Gaps in education can happen in many ways. One of my biggest worries when I realized that there were gaps in my kids' education, was that people would think I hadn't done my job well. Or worse yet, that I was lazy and just didn't take the time to teach them properly.
Sometimes we realize there is a need, but we just don't feel like our child is ready. I am a huge advocate of waiting for the right timing in teaching any skill. There is no need to rush things. Instead, I make note of the gap and wait.
There are other times that our teaching efforts are met with great resistance from our students. No matter how hard we try, learning just isn't happening. Again, sometimes it is just best to wait things out.
How to fill in the gaps?
There are four ways I have found to fill in the gaps in my children's education. Choosing what to do depends on the situation. This is the great thing about homeschooling. We get to tailor our methods to the needs of our children!
1. Remedial work
This method works well when we realize a child has a need and simply needs to catch up. For instance, they haven't memorized all their math facts. Or when their language arts asks them to circle the nouns, and they don't know what a noun is.
Remedial work might mean that mom has to spend some one-on-one tutoring time, bringing the student up to speed. Or they may just need some extra practice that dad, siblings, or a computer game could provide.
2. Replacement work
I have used replacement work with my kids when the normal coursework didn't fit their need. One of my children despised handwriting. He would whine and fuss about how hard it was. His handwriting was terrible. I found out that his handwriting difficulties were much more than just not liking the work of writing.
Instead of torturing him to practice his handwriting, I had him learn to type at a very young age. He was then allowed to type out his assignments and turn them in. Ten years later, he still has very bad handwriting, but he is a computer genius and uses his typing daily!
3. Cover material as needed
I hate to pick on the same child for two examples in a row, but the same child that despised handwriting also disliked writing in general (no surprise). He would write a paragraph if I absolutely made him, but always with resistance. At one point, I moved on. I decided it wasn't worth the trouble it caused to force him to write.
Last year, he started taking classes at the junior college. He quickly realized how important it is to his grades that he write well. And because he needs good grades to get into the computer engineering program, he decided he had better work on his writing. Each day, I am now teaching him to write without one word of disdain.
4. Do nothing
Sometimes the best things we can do about gaps is absolutely nothing. I know that sounds harsh. But honestly, every single one of us has gaps in our own education. The key to leaving gaps is that we light the fire of learning in our children so that when they perceive a need in their own education, they educate themselves.
I have had to do this in my own life. Twenty years ago I took anatomy and physiology in college. I quickly let the information go in one ear and out the next. I had no use for it other than a science credit for my degree. I am now working on becoming a clinical herbalist, and have a great need to know anatomy and physiology.
What am I doing about it? I am filling in the gap! That same thing will happen for your children.