5 Reasons to Host a Girls' Book Club
Heather Woodie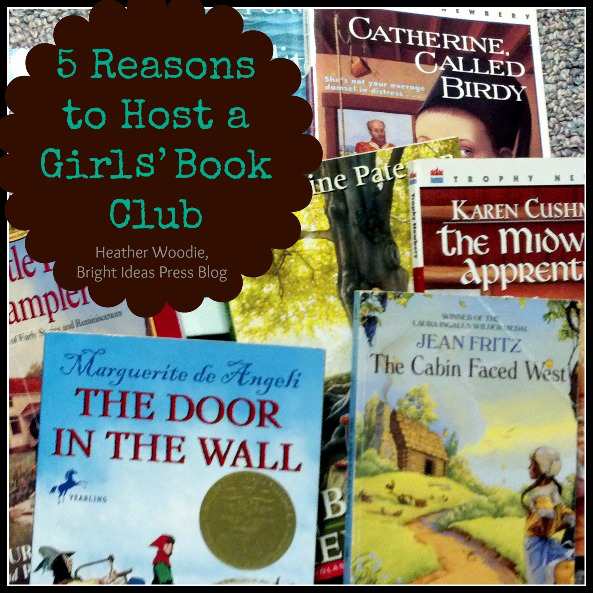 Are you looking for a way to get your girl to connect with books and have time with other girls? Having just one daughter among three sons, I have to be intentional about making sure we have girl time. When we were invited to be a part of a girls' book club, I happily accepted the opportunity to host. We meet once a month in our home, and we have six girls who attend. The parents stay for the club time and share their expertise with the girls. Why take the time to work a book club into your schedule?
A book club encourages girls to read great books.
We started with a list of books the organizer wanted to try out this year and each month the girls help to choose the book for the following month. Even if your girl isn't a huge reader, don't be afraid to require more. A book club will help make the goal more fun.
You do activities you would not normally try.
Each month we are introduced to a new craft or activity based on the theme for the book. It also gives the girls a reason to play dress-up, even as tweens and young teens! We've made harp keys from clay, and last month one of the moms showed us how to do book binding.
You can try new foods.
During our meetings, we enjoy lunch together based on the book's setting. We announce the week before what we're bringing, and it's always fun to see what folks come up.
You'll read new books.
Maybe you are in a book rut? Book clubs can introduce you to books and authors you might not normally pick. We've met a lot of great books this year so far such as: Kira Kira, Gypsy Rizka, A String in the Harp, and Inkheart. This month we are reading The True Confessions of Charlotte Doyle.
A book club provides socialization time.
In fact, our book club brings together girls from several different homeschool groups in our area. We've met some wonderful new people this way, and new friends are always special.
This year we've tried a few different activities which are on the fun side of academics, and it's been a worthwhile experience. I encourage you to consider a girls' book club and reap the benefits of engaging in books with your girls. Happy reading!