Hackschooling, Homeschooling, and Happiness
Laurie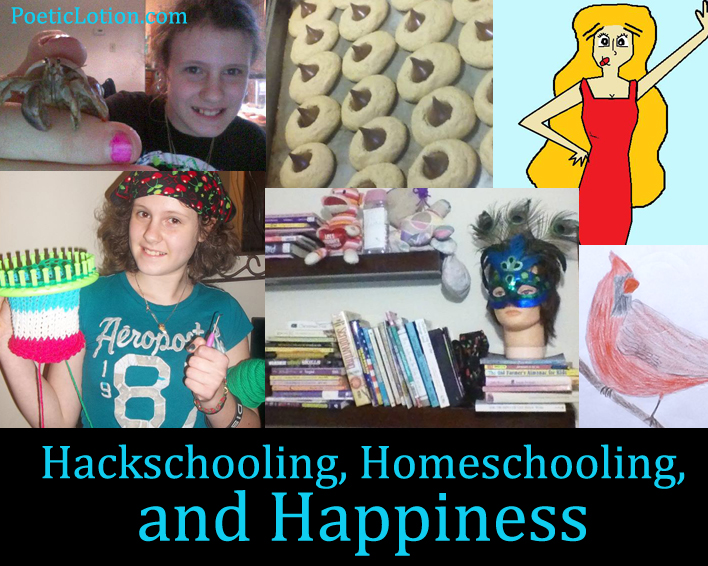 A homeschooling friend of mine posted a video on her Facebook wall of a speech given by 13-year-old Logan LaPlante at a TEDx Event. The video is not new, by any means, as it is from February 2013. But the concept that Logan, a homeschooler, speaks of is definitely something worth revisiting as it gains popularity.
When asked what he wants to be when he grows up, Logan answers, "Happy."
Simple enough.
But as he points out, schools don't teach you to be happy. As his parents realized – along with an estimated two million Americans – homeschools do teach how to be happy. Logan is in complete control of his schooling, which he calls hackschooling.
The idea behind the name, according to Hackschooling.net, is that "the most innovative entrepreneurs are people who are able to hack the status quo and create something completely new."
As I listened to Logan's message, two things occurred to me.
My own almost-thirteen-year-old is a hackschooler!
I wonder if I am teaching enough happiness in my homeschool.
The night before my friend posted the TED video of Logan's speech, I had a late night dilemma. It was 12:45 AM. Way past bedtime. Yet I could hear my preteen in her room, talking. As I listened, I realized that she was on Duolingo, practicing her Spanish. As a homeschooling mom, I wondered whether to tell her to go to sleep already or let her learn.
While my six-year-old and ten-year-old still need guidance and instruction in school, my oldest, Annie, is proficient at finding her own school and completing it on her own. She's an avid reader, finishing books in days and always reading more than one book at a time. I cannot keep enough books in the house, and she often rereads books over and over again just for the sheer pleasure of it. (In fact, she has read the entire Hunger Games series six times now, plus the two extra times for Catching Fire, her favorite.)
Annie has a new-found interest in cooking and baking. She recently made a birthday cake for her brother without any help. She loves knitting and sewing. She enjoys gardening and helps out in the greenhouse of my sister's farm. She is a crafter. She's a history buff. She'll take on any science experiment with her own ideas and theories. She's a singer, an artist, and an animator. She is a bird-watcher and can draw lifelike pictures of a variety of species. She has her own animated series called The Cohen's Show. She is a certified babysitter. She takes care of her hermit crabs, pet lionhead rabbit, as well as the family's parakeets. She even practices math – the most dreaded subject of all in her opinion – without being asked. Annie started a non-profit organization called Bandanas4Cancer and a book review site for kids called Paper Thin Book Reviews. (Shameless plug: If your kids are readers, ask them to check it out and contribute. Perhaps it can be a homeschool lesson for your family? Annie would be thrilled!)
But is she happy? Are any of my children happy?
Logan believes that his happiness stems from eight different areas of life: exercise, diet and nutrition, time in nature, contribution and service, relationships, recreation, relaxation and stress management, and religious and spiritual. While my children definitely have access to each of these areas, I can see room for improvement in their lives as well as mine.
Learning how to be happy is as important – if not more so – as reading, writing, and arithmetic. We will be taking time to focus on happiness in our homeschool this year.
What are you doing to teach happiness?