Martin Luther King, Jr. Homeschool Unit Study
Ticia Messing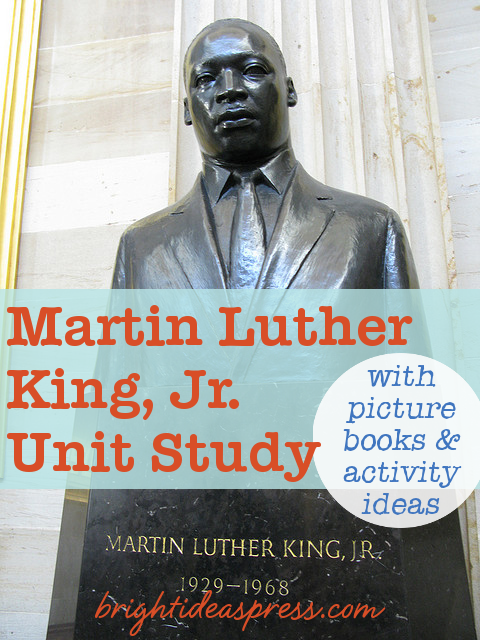 I'm a big fan of picture books to teach history because they can make difficult subjects accessible.  Martin Luther King, Jr. accomplished many great achievements, and we have all heard his I Have a Dream speech. But it can be hard to talk about the brutality and prejudice that went on before and during the Civil Rights movement.
This is an outline of our Martin Luther King , Jr. unit study when we worked through All American History 2.
Picture books for a Martin Luther King, Jr. Unit
A Picture Book of Martin Luther King, Jr.
 (affiliate link)
For a general idea of his life, you can't do much better than David Adler's biography of MLK.
Martin's Big Words: The Life of Dr. Martin Luther King, Jr.
 (affiliate link)
This book does a great job of portraying what the Civil Rights protesters went through and where MLK's dreams came from.
Gandhi: A March to the Sea
 (affiliate link)
Gandhi's style of protest inspired MLK, and this book does a good job of portraying the parallels.
 Activities for Martin Luther King, Jr. Unit
Read A Picture book of Martin Luther King, Jr. and create a timeline of his life.  My favorite way to do this with young kids is to use a sentence strip and draw pictures or copy images from the book to put in order.  With older kids we just use notebook paper and use the lines already there to provide a steady measured pace.
Read Martin's Big Words and Gandhi: March to the Sea and create a Venn Diagram showing how were their situations were similar and different.  Discuss how Gandhi inspired Martin Luther King, Jr.
After reading Martin's Big Words or listening to the I Have a Dream speech, talk together about your big dreams.  How will you change the world?
For older kids, watch the YouTube video of the I Have a Dream speech.  Listen to his speech and note what points he brings up. Do you notice any similarities to other speeches? Read a copy of the Gettysburg Address for comparison of another famous speech.  What phrases does he repeat?  Compare his speech to those of the Old Testament prophets such as Isaiah 1.
Many of Martin Luther King, Jr.'s speeches were inspired by negro spirituals.  Here are a few to listen to: Hold On, Spiritual Medley, another Spiritual Medley.  Discuss how the music makes you feel, what symbolism you hear and what phrases you hear repeated.
photo credit: Oakley Originals