Curriculum Failure: 5 Things to Consider Before You Throw It Out
Lisa B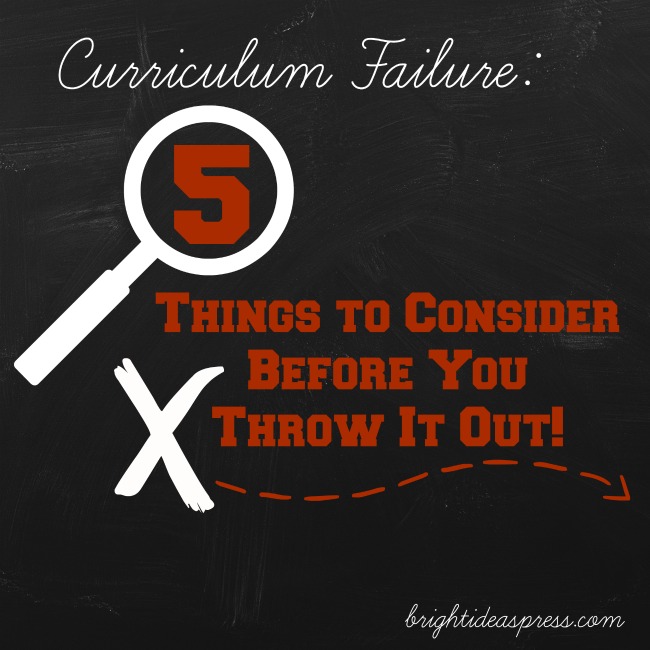 Last week, I hid in my room to finally admit math curriculum #6,534 was failing.
It seems like every year I get excited about a new style, a new method, or a new approach only to have it blow up in my school room.
I love that my children are different and have different learning styles. I feel blessed that homeschooling allows me to work with their particular needs.
There comes a time though, when you've tried just about everything and something has to give.
I asked friends and colleagues about their math curriculum. I priced out yet another math curriculum set. I made a list of all the online free places to do math.
I got mad.
There, I admit it. I got really angry. I was angry that I was spending so much time and money buying the next big thing, yet I couldn't say, with confidence, that I had given what I already owned a fair try.
Kids develop so differently, and I began considering that our past failures may not have been because the curriculum didn't fit my kid. It could be it didn't fit my child that year.
What if my daughter just wasn't ready to process math in that way yet?
I dug through a hard drive full of digital homeschool files to find the math books I had purchased last year, and I reprinted them. I took the first quarter of the book and bound it.
Then I removed everything but math from our school schedule for the week.
Ready for this? We have had a week of math, pretty intense math, with no tears. Some days, they even smiled.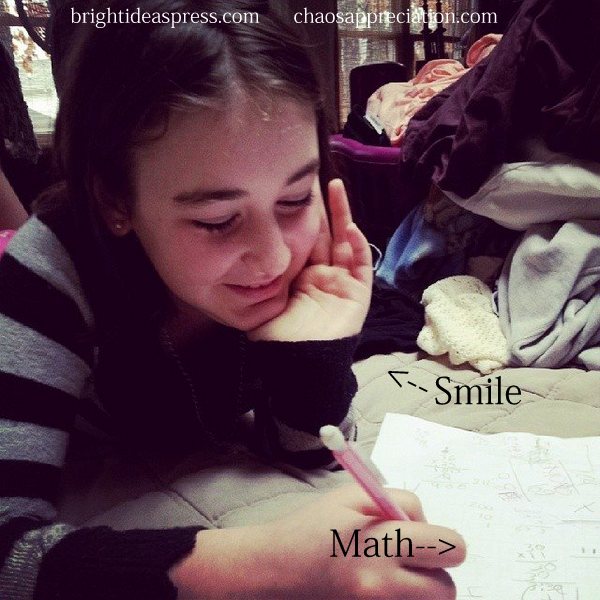 We did big, complicated, multi-digit math in the van. We laughed about math.
I discovered that they understood big math terms like subtrahend and they discovered that they really were very good at math.
I was not a bad teacher. They were not horrible at math. I had not bought the world's worst math curriculum (again).
We were just in the wrong place at the wrong time.
So, dear homeschool momma, before you throw away (or sell) that curriculum you spent your money on, consider this:
Maybe you have the right tools, but you're just using them at the wrong time.
Maybe that really awesome science book isn't working because the concepts are too big, or the reading is intimidating for your not-quite-ready reader. favicongenerator.org. Last year, we used Christian Kids Explore Physics, and it was a complete win for our oldest daughter! She loved it, and she understood what it was trying to teach. Her sister hated it. She just couldn't quite understand physics and energy, heat and light, and all those things you can't really see. I lost her attention early on and never could get her actively participating again. The curriculum is awesome; my timing with her was off.
So before you throw in the towel, or take the lack of progress personally, consider these five things:
Just because they can read, doesn't mean they want to. My daughter can read an encyclopedia but prefers to curl up with a good board book. She has difficulty staying focused over long passages. Charlotte Mason style lessons do not work for her no matter how much I want to make it work.
Not everyone is ready to grasp conceptual ideas at the same time. They may see that a dropped object falls down, but understanding that an unseen force called gravity is what pulls it down may be difficult. Try something more concrete, learn a skill, or focus on hands on learning until they are ready.
It's not them; it's you. Ouch, that realization hurt me because it's true. I have given a big thumbs down to curriculum only to later acknowledge the failure was mine. I don't always read through the "Teacher Information" section, or the "How to Use This Book" introduction. The curriculum isn't really getting a fair chance when it isn't used the way it was intended.
It wasn't challenging. Maybe you need to take the lesson you have and add a deeper element in which you go a step further or dig deeper.
They just can't relate. We often have this problem with history and geography, so I try to overcome the barrier by helping them relate to the people they are discovering. For example, the Olympics provided a great opportunity to study relevant geography as we looked for athletes' countries on a globe. Watching a historical movie brings a period from history to life.
No one wants to waste money on the wrong curriculum and no one wants to waste time fighting with one that just isn't working. One of the biggest reasons we love homeschooling is the flexibility that it allows. Be flexible! Step outside the box that te curriculum came in and see if it might work with a little tweaking or a little percolating. It might be that it just needs another year on the shelf.
Have you ever sold a barely used book only to realize a few years later that you should have kept it?