Homeschooling with Learning Styles
Renee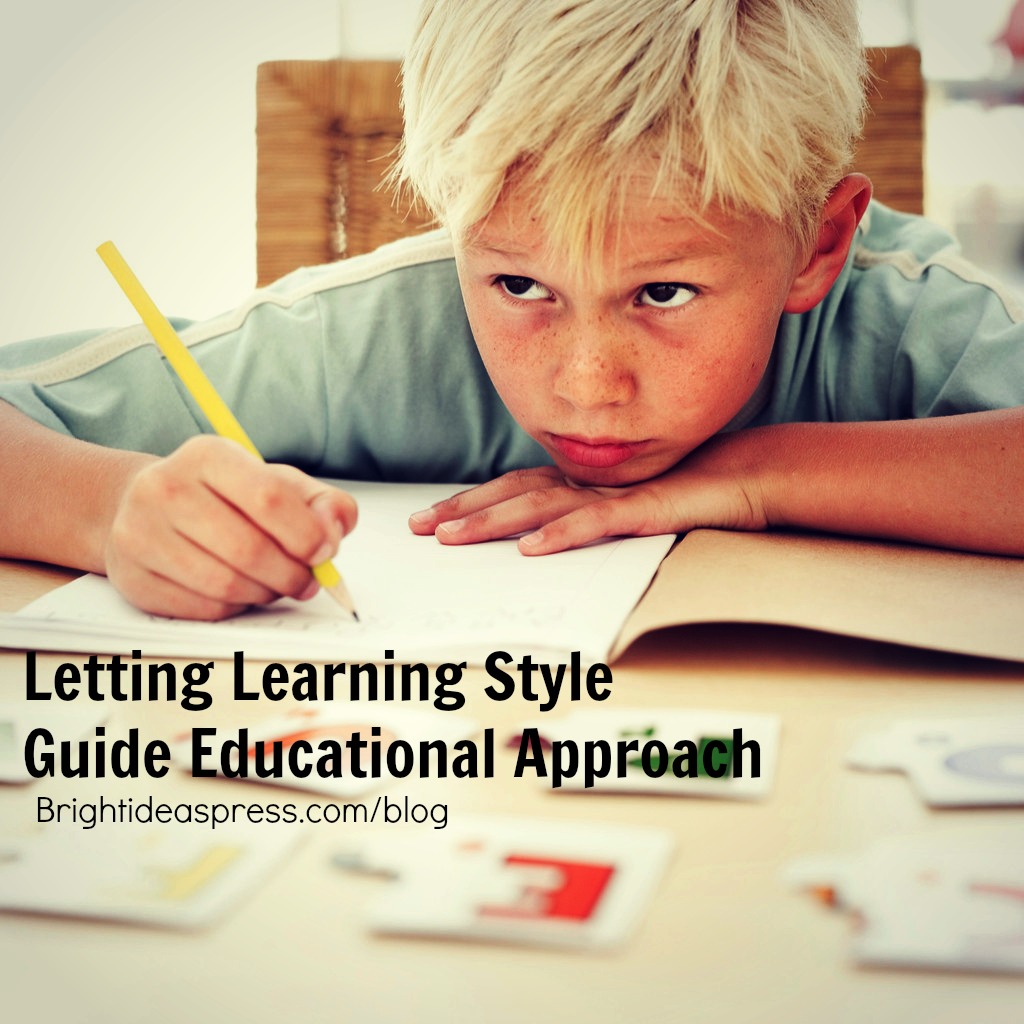 As a homeschooling parent, you may have an ideal scenario in mind when it comes to how your homeschool should be structured. You may have set out to teach using a certain method or be organized in a specific way. Then, the daily life of homeschool begins, and within a short time you discover that what you thought was the ideal approach isn't really working for your children. It could be that their unique learning styles are hindering your efforts.
God created humankind to be unique, each one different from the other. With that distinction come unique characteristics, unique likes and dislikes, and unique attitudes and learning styles. So how does a homeschooling parent determine the best way to educate their unique children? When choosing an education method for your children it is important to consider the type of learner they are as well as the style of teaching that you may be comfortable with.
I am no expert when it comes to the functioning of the brain or learning styles. But I have tried to research and educate myself. What I have learned is that there are three major types of learning.  Each of these can be broken down into further sub-categories, but I will stick with the three major types: visual, auditory and physical.
The Three Major Styles of Learning
Visual or Spatial – People with this style learn retains information best through visual learning. In other words, they work and learn best through what they see. This translates well for those who enjoy reading or viewing things which are printed in some sort of documentation such as graphs, pictures, etc. They respond well when a lecture is presented with visual aids and often remember what is going on around the speaker better than what the speaker is saying.
Aural or Auditory – An auditory learner responds best to hearing and/or speaking their lessons. This type of learner does well with memorization and often will repeat what they hear or read in order to better retain the information. Many auditory learners have a talent for music. Music also can help to stimulate their thinking when studying in a quiet setting. Music is also closely related to math, and students who are auditory may be able to process mathematical equations better when music is playing.
Physical or Kinesthetic – Kinesthetic learners like hands-on activities. They often will remember things that they learned while performing a motion or practicing. Kinesthetic learners are often able to demonstrate what they know, better than they can recite or write what they know.
"Do not train a child to learn by force or harshness; but direct them to it by what amuses their minds, so that you may be better able to discover with accuracy the peculiar bent of the genius of each."                                                                                           ~ Plato  
As you read through this list, do any of them reflect your children? You may even discover that one or more of your children show characteristics from multiple styles. With such variety, how can a homeschooling mom truly meet the unique needs of her children?
In my case, I have a child who shows characteristics of each of these learning styles. Therefore, I seek materials and curriculum which incorporate them all. Then I choose the parts of the material which I believe will best stimulate his thinking and willingness to participate.
For example, instead of requiring my son to read lessons from The Mystery of History, I use the audio CDs so he can hear the lessons. The fact that there is a gentle musical track playing in the background allows him to tune in with even more focus. I also incorporate many of the hands-on activities from the lessons to stimulate his kinesthetic learning. Having him do research online to stretch the lessons even further and incorporating art history into the lessons allow him to stimulate his visual processors.
When you consider your children and how they work best, consider how you can incorporate their preferred styles into the material you already have on hand. Often, the material isn't the issue but rather the way it's presented or the expectations for how the child should use it.
I know one child who is a kinesthetic learner, and his mom hands him some silly putty to hold while he reads assignments. The physical motion of his hands frees his mind to process the words in front of him.
Instead of having your child write assignments, try dictation or even allow typing. For a while, I allowed my son to illustrate his stories because he was better able to process the information into a visual format.
As a parent, you know your children better than anyone else. You want what is best for them. Homeschooling allows you the freedom to branch out and try new methods, test the learning styles and even think outside the preconceived learning approaches to forge new frontiers in education. Go ahead, try something a little different. If it doesn't work, let it go and try something else.