Parental Modeling of Conditional Clauses
Suzanne Broadhurst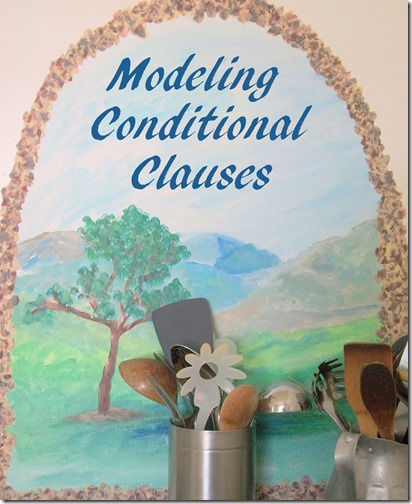 Using conditional clauses, if-then statements, we can maintain boundaries and deepen relationships.  It is not an effortless way of life in the short run, but they do make life manageable in the long run.  And parenting, with its sub-topic homeschooling, is all about the marathon.
Modeling by Practicing
We parents have a race to run as individuals, as well.  By being aware of conditional clauses, we can take personal responsibility for our feelings, our actions, and our circumstances even when we don't have all the answers. 
Our children will notice we are practicing life and they will have courage to practice with us.  They see that when we fall short, there is still hope, for we can model the conditional clause of 1 John 1:9.
"If we confess our sins, [then] He is faithful and just to forgive us our sins and cleanse us from all unrighteousness."
Conditional Clauses that Helped Me Homeschool Through High School Graduation
If lonely, encourage someone.
If bored, go to the library.
If ready to snap at the kids, take time to find out why and talk to them calmly.
If missing their company, gather for popcorn and a movie or read-aloud.
If ill, take care of yourself.
If tired of cooking, teach your children how to cook.
If in need of wisdom, seek God.
If close to tears, grab a box of tissues.
If in need of homeschooling encouragement, find a veteran homeschool mom.
If confused, wait.
If feeling taken advantage of, establish boundaries. 
If tired, rest.
Positive Conditions
Not all conditional clauses need be phrased in the negative.
Look over the list above, written for a mama by a mama, forming each sentence in its negative.  For example, "If I don't rest, I will get cranky."
Now look over the examples in my previous post, Teaching Conditional Clauses, changing the negatives into positives, and positives into negatives. It's not that negatively worded consequences are bad, and positives are good.  God uses both depending on the audience and the circumstances.
Why Model Conditional Clauses?
Did you notice I left off the word then in the conditional clauses above?
The Bible has plenty of if statements with and without the implied then.
If you do a word study in the Bible on the word if, I encourage you to share the results with your children.  You may both be surprised at the fluidity of life and the freedoms God has given us to choose.
Of course, He also has freedom to choose His response.  Even the response of mercy.  And grace.
God uses conditional clauses because He loves us.  And if He loves us, shouldn't we love ourselves enough to follow His lead?