Teaching Conditional Clauses
Suzanne Broadhurst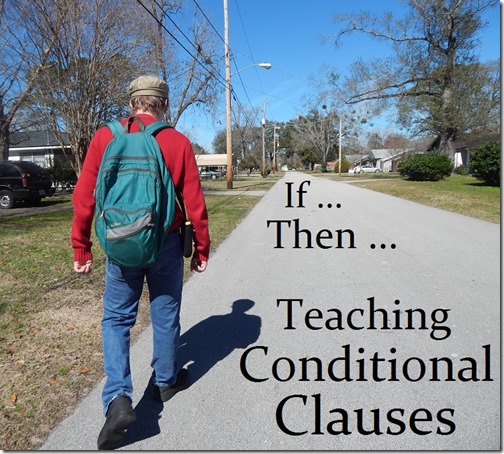 Conditional clauses are the backbone of freedom.  If there is no option, then there is no freedom. Both sides of the proverbial clause have freedom to act and to respond.  We may not like the expression of the other party's freedom, but they are free to choose, knowing that we are free to respond to their choice.  And they to ours.  And ours to theirs.  And on and on, life goes.
Examples of Conditional Clauses
The choices and freedoms for homeschooling parties, both parent and child, are many and occur often.
A few examples of conditional clauses:
If you jump on the bed, then you will get a time out.
Parent gives the choice to jump or not jump.  Freedom.
Child can choose to play or get a time out.  Freedom.
If you don't take the trash bag out to the trashcan after dinner, then you will be responsible for any mess on the back porch.
Parent offers the choice to do the chore in a timely manner … or not.  Freedom.
Child can choose to be timely or to clean up the mess when the neighborhood animals get into it overnight.  Freedom.
If you finish your math homework, then you may work on writing your book this morning. (A problem of homeschoolers around the country!   A good problem, wouldn't you say?) 
Freedom for the parent to set boundaries, understanding the bigger educational picture.
Freedom for the child to make the choice.
A follow-up clause may be needed if, indeed, the child decides to postpone the math and the writing.  Maybe something like, "If you don't finish your math and work on your writing this morning, then you will miss out on making antacid bottle rockets with your siblings this afternoon."
Why We Should Use Conditional Clauses in our Parenting
If we give them freedom, then they will learn to choose.
If we allow consequences, then they will gain wisdom.
If we use conditional clauses with our children, then they will learn to use them with their peers.
If we don't set boundaries with conditional clauses, then we will begin to resent our children's responses to our directives.
Resent our Children?
Resent our own precious children?  Why would we ever resent them?
Children don't always follow our instructions.  They don't always make the same choices we would make.   If they did, they would be called: adults.
Ever wonder why we are called the children of God?