Letting Your Children Help Choose Homeschool Curriculum
Ticia Messing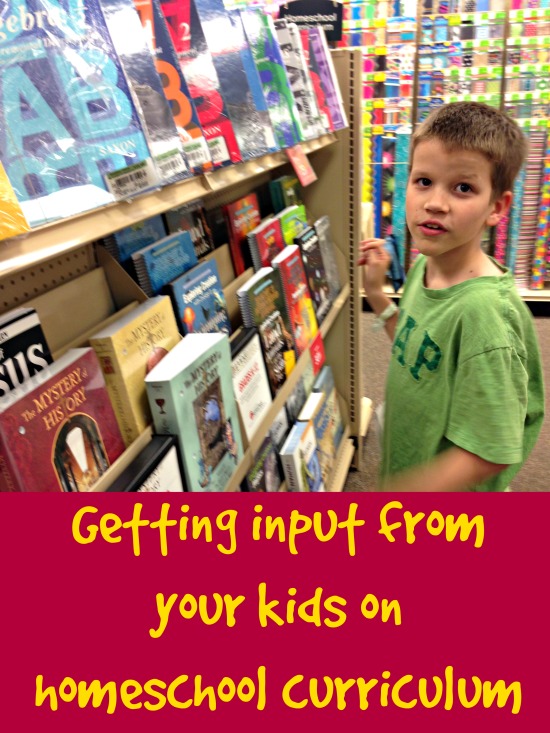 For the past several years when it is time to pick homeschool curriculum, I've let my children pick what we use for science.  We've learned about zoology, anatomy, more zoology, and next year we're learning about astronomy.  The children love having a say in what we study.
I have an end goal for my children.  I want them ultimately to be independent learners.  Now, at 9 and 7 years old, they are not there yet.  But giving them input into choosing some of our curriculum is one of my steps towards their independence as thinkers and learners.
Give your child guidelines for picking homeschool curriculum
Before heading off to our local homeschool store, I researched what I thought would work.  I took into account interests, what we'd already studied, and what I want studied by certain times.  Then I gave my children options, narrowing down what they had to look. Giving your children too many options guarantees there will be arguments.
Here are the guidelines I gave my children:
It can't be a topic we've studied thoroughly before.
Look thoroughly at the resource, not just the cover.
Be able to defend your choice.
Be able to share at least three activities/chapters you are excited about.
It has to fit within our budget.
I also ask my children to give me feedback about the supplementary materials we use such as the notebooking pages for The Mystery of History (affiliate link).  I want to know what they think we'll use and what we should skip.  This year my children surprised me when they said they don't really want to use the coloring pages.
Benefits to letting your children pick homeschool curriculum
The big super duper reason to let them pick: buy in.  If they're invested and interested in the subject already, you won't get dragging feet as you start school.  My children are a lot more excited about our human body study this year because it was something they chose.
Besides buy in, here are other benefits I've noticed:
less wasted curriculum —Now I'm buying materials they will actually use (and not just what I like).
follow through —Now we are actually finishing more of what I buy instead of giving up mid-stream.
excitement — Now my children can't wait to do science.  They also can't wait to do history, but that's a different subject.
Some curriculum is not open for debate.
We have found a reading curriculum that works after trying three different ones.  That is not up for debate. And The Mystery of History (affiliate link) works for us —really works— and I'm not changing it. So feel free to draw some lines in the sand and not compromise on what you know is working. For the other areas, let your children have some say in the decision.