Homeschool Scheduling—Tips, Freebies, and Triage
Tyler Hogan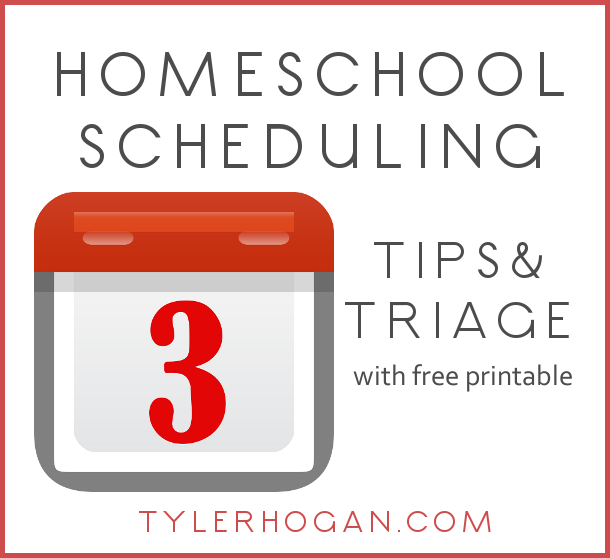 A schedule can make or break a family's success with homeschooling. Over plan and you will feel stressed and constantly behind. But under plan and you may look back to realize you accomplished very little with your precious days and weeks. Where do you fall on that continuum?
Evaluate Your Schedule
Here are some questions to use to decide if your schedule works for you or not.
Do you have clear goals?
Are you accomplishing your goals?
Is your routine killing you, or do you feel good about your progress?
Are you flexible enough to adapt to curve balls and opportunities?
Is your schedule meeting your kids needs for structure/freedom?
Is your schedule preparing your kids for adulthood?
After reading those questions, maybe you realize that you need a schedule. But you don't know where to start. Here are my suggestions.
1. Start by identifying your goals for the year.
What books or curriculum do you want to use, and do you want or need to finish it by the end of the year?
2. Then, look at the curriculum.
Don't forget to read the teacher's guides because they almost always have great advice on how to schedule.
3. Map out your plan on a calendar.
Divide the material you want to cover over the course of the year, one week at a time, on your calendar.
For example, if you have a 32-lesson program, what lesson will you work on each week? Leave room for holidays, travel, family events, sick days, etc. I like to schedule a week off at least every 8 weeks or so. If you don't need the week off, that's fine, but it is better to factor in buffer days than to feel behind.
4. Make a template for your weekly schedule.
You don't need to be super detailed, but fill in the regular, repeating tasks like these examples.
We do science Tuesdays and Thursdays.
Wednesday afternoons are for co-op.
We do history 5-days a week. Monday–Wednesday we read and do activities, Thursdays are for maps and timelines, and Friday we have a quiz.
Post your template on your fridge, schoolroom wall, or planner. Make it visible. Maybe even laminate it or use a whiteboard so you can add specifics each week.
Free Printable Homeschool Schedule Triage Form
My Homeschool Schedule Triage form is a quick survey that guides you to write down your goals and to start thinking about what you can do to get from A to B.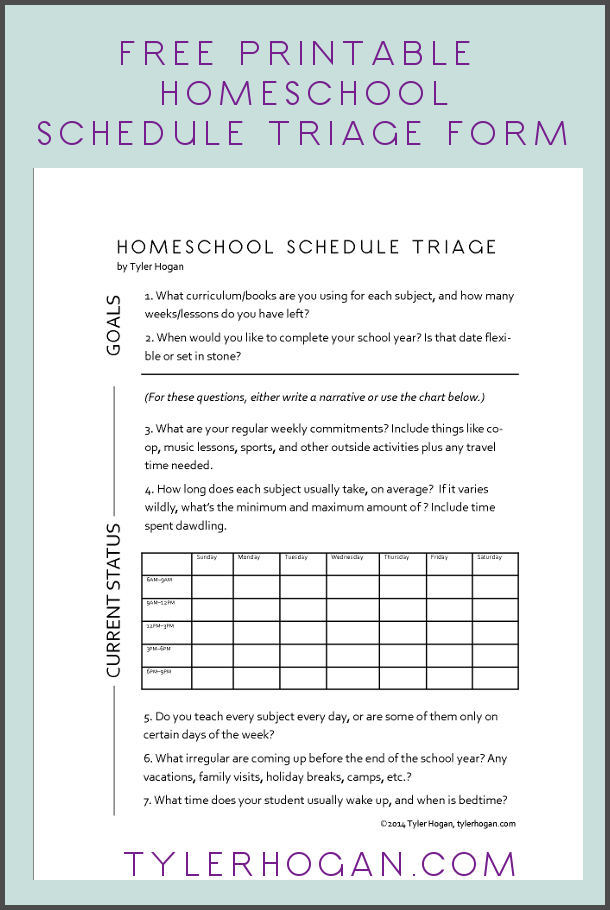 For more information about schedules, take a look at our live panel about Homeschool Schedules.
Get Personalized Help
If you're interested in talking with me about your schedule, I'd be happy to consult with you. Send an email, and we can discuss rates and get a phone or Skype call on the calendar. I'll definitely want to see your finished copy of the Homeschool Schedule Triage form.